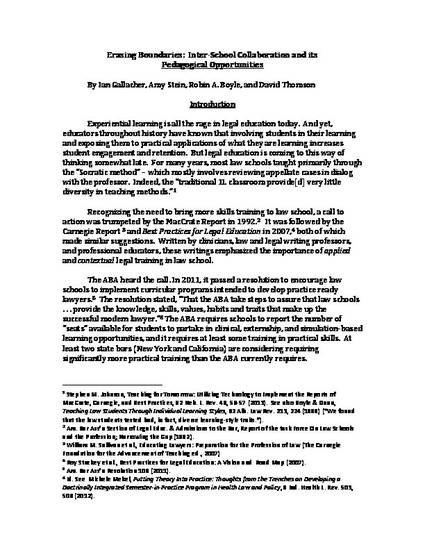 Article
Erasing Boundaries: Inter-School Collaboration and its Pedagogical Opportunities
AALS Newsletter of the Section of Legal Writing, Reasoning, and Research (2014)
Abstract
This short article is the product of a presentation the four authors gave at the 2014 AALS Conference in New York City. In it, we briefly examine some of the problems facing legal education and propose that legal writing programs across the country could enhance the quality and complexity of the assignments they set if they worked together. Even though each faculty would teach the problem in their own way, and grade their own students' work, the possibilities offered by this approach would allow each school to simulate more closely the reality of law practice. The article includes some suggestions for other courses in which this approach might be used.
Citation Information
Ian Gallacher, Amy Stein, Robin A. Boyle and David Thomson. "Erasing Boundaries: Inter-School Collaboration and its Pedagogical Opportunities"
AALS Newsletter of the Section of Legal Writing, Reasoning, and Research
(2014)
Available at: http://works.bepress.com/ian_gallacher/26/