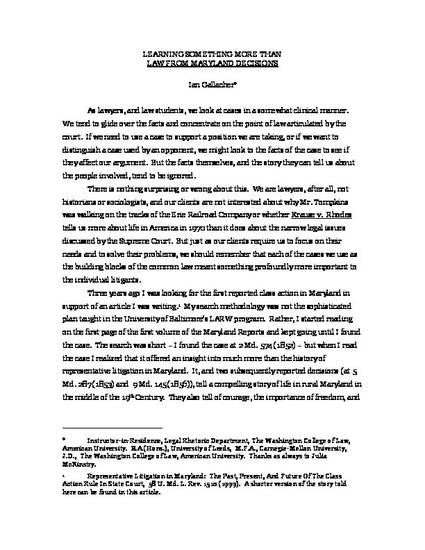 Article
Learning More than Law from Maryland Decisions
University of Baltimore Law Forum (2002)
Abstract
This short article describes the fight for freedom waged in Maryland's courts during the 1850s by two slaves, known only as Jerry and Anthony. Although their owner intended to free them, and the other slaves on his plantation, when he died, his son had his father's will declared invalid and the slaves brought a legal action to force their freedom. Although remembered in Maryland law as one of the first cases to discuss intra-state transfer from one jurisdiction to another, and although acting as Maryland's first published civil rights class action, the case also has a great deal to teach about life in Nineteenth Century America and serves as a monument to two men otherwise recorded only as numbers in the 1850 census.
Citation Information
Ian Gallacher. "Learning More than Law from Maryland Decisions"
University of Baltimore Law Forum
Vol. 32 Iss. 1 (2002)
Available at: http://works.bepress.com/ian_gallacher/24/