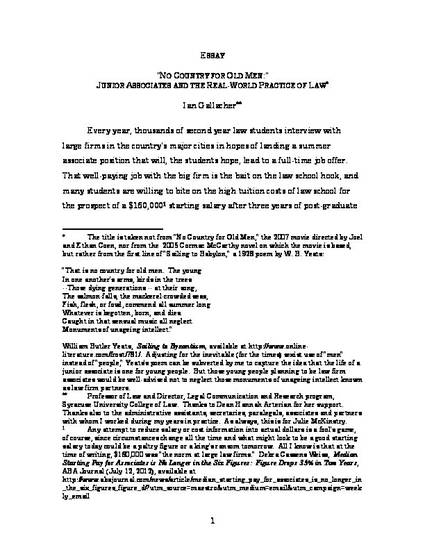 Article
"No Country For Old Men:" Junior Associates And The Real-World Practice Of Law
None (2012)
Abstract
This short essay seeks to give law students hoping to be junior associates at large, big-city law firms some information about the seemingly large salaries offered to them and discusses what life might be like for them if they take a position at one of these firms. The essay begins with a discussion of how much an associate might expect to keep, after the cost of living in a large city is accounted for, from the advertised starting salary offered by such firms. It then considers what it costs the firm to pay an associate such a large salary, how the firm makes that money back, and it considers both the reality and the myth of the billable hour. It provides specific numbers for the amount of time an associate can expect to spend at work and discusses why the most important number for the firm's partners when looking at an associate is the difference between the number of hours the associate has billed and the amount of receivable income the firm has received because of that associate's work. Some of the information contained in this essay might make uncomfortable reading for those law students who assume that a large firm salary is the ticket to a life of financial security and ease. The reality is that junior associates often work very long hours and spend very little time in very expensive accommodations in order to retain a small amount of income at the end of each month. In the end, the essay concludes that even as described, the lifestyle of a large firm associate might well be appealing to many law students, especially given the intellectual challenges and the energy and pace presented by such a practice. Rather than trying to discourage law students from practicing in such an environment, the essay seeks to give them the information necessary to make a relatively informed decision about the types of job they seek.
Citation Information
Ian Gallacher. ""No Country For Old Men:" Junior Associates And The Real-World Practice Of Law"
None
(2012)
Available at: http://works.bepress.com/ian_gallacher/21/