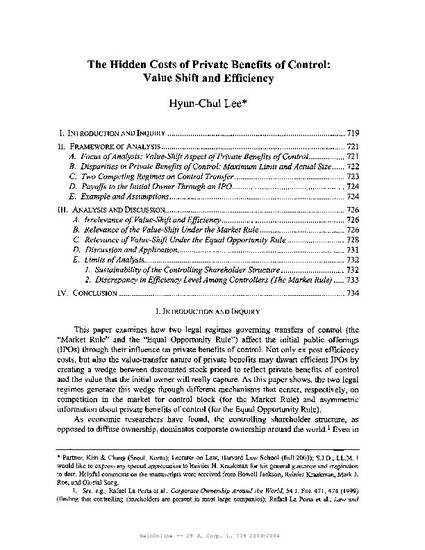 Article
The Hidden Costs of Private Benefits of Control: Value Shift and Efficiency
Journal of Corporation Law (2004)
Abstract
This paper relates the two regimes governing control transfer to the adverse impacts that private benefits of control have on IPOs. Merely the value-transfer nature of private benefits alone may stymie efficient IPOs because of the wedge between the discount for private benefits in pricing and what the initial owner will eventually capture. Irrelevance of the value-shift nature to the initial owner's payoffs serves efficient IPOs. This paper shows separate mechanisms by which the two rules generate such wedge. The Market Rule allows increase in private benefits via control transfer, causing discount with maximum ceiling of private benefits. To offset such deep discount requires fully competitive market for control block. The Equal Opportunity Rule does not allow private benefits-increasing control transaction, but asymmetric information on the size of private benefits produces the wedge. The Market Rule may work well with an arm's length system, and the Equal Opportunity Rule with a relationship based system.
Keywords
Private benefits of control,
Market Rule,
Equal Opportunity Rule,
Efficiency,
Value-shift
Publication Date
August, 2004
Citation Information
Hyun-Chul Lee. "The Hidden Costs of Private Benefits of Control: Value Shift and Efficiency"
Journal of Corporation Law
Vol. 29 Iss. 4 (2004)
Available at: http://works.bepress.com/hyun_chul_lee/2/