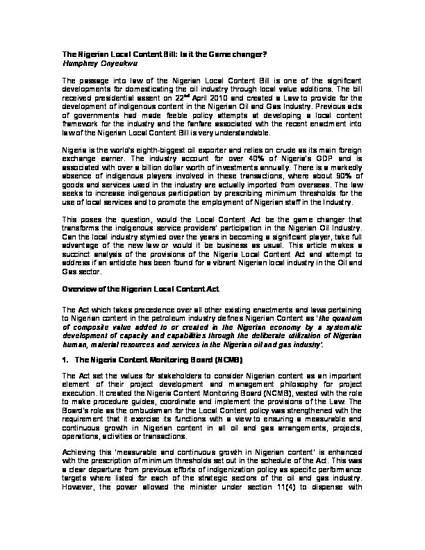 Unpublished Paper
The Nigerian Local Content Act: Is it the Game changer?
(2010)
Abstract
The passage into law of the Nigerian Local Content Bill is one of the significant developments for domesticating the oil industry through local value additions. The bill received presidential assent on 22nd April 2010 and created a Law to provide for the development of indigenous content in the Nigerian Oil and Gas Industry. Previous acts of governments had made feeble policy attempts at developing a local content framework for the industry and the fanfare associated with the recent enactment into law of the Nigerian Local Content Bill is very understandable.
Nigeria is the world's eighth-biggest oil exporter and relies on crude as its main foreign exchange earner. The industry account for over 40% of Nigeria's GDP and is associated with over a billion dollar worth of investments annually. There is a markedly absence of indigenous players involved in these transactions, where about 90% of goods and services used in the industry are actually imported from overseas. The law seeks to increase indigenous participation by prescribing minimum thresholds for the use of local services and to promote the employment of Nigerian staff in the Industry.
This poses the question, would the Local Content Act be the game changer that transforms the indigenous service providers' participation in the Nigerian Oil Industry. Can the local industry stymied over the years in becoming a significant player, take full advantage of the new law or would it be business as usual. This article makes a succinct analysis of the provisions of the Nigeria Local Content Act and attempt to address if an antidote has been found for a vibrant Nigerian local industry in the Oil and Gas sector.
Citation Information
Humphrey Onyeukwu. "The Nigerian Local Content Act: Is it the Game changer?" (2010)
Available at: http://works.bepress.com/humphrey_onyeukwu/8/