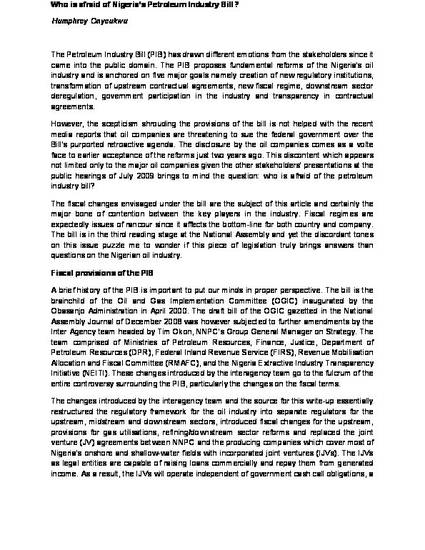 Unpublished Paper
Who is afraid of Nigeria's Petroleum Industry Bill?
(2010)
Abstract
The Petroleum Industry Bill (PIB) has drawn different emotions from the stakeholders since it came into the public domain. The PIB proposes fundamental reforms of the Nigeria's oil industry and is anchored on five major goals namely creation of new regulatory institutions, transformation of upstream contractual agreements, new fiscal regime, downstream sector deregulation, government participation in the industry and transparency in contractual agreements.
However, the scepticism shrouding the provisions of the bill is not helped with the recent media reports that oil companies are threatening to sue the federal government over the Bill's purported retroactive agenda. The disclosure by the oil companies comes as a volte face to earlier acceptance of the reforms just two years ago. This discontent which appears not limited only to the major oil companies given the other stakeholders' presentations at the public hearings of July 2009 brings to mind the question: who is afraid of the petroleum industry bill?
The fiscal changes envisaged under the bill are the subject of this article and certainly the major bone of contention between the key players in the industry. Fiscal regimes are expectedly issues of rancour since it affects the bottom-line for both country and company. The bill is in the third reading stage at the National Assembly and yet the discordant tones on this issue puzzle me to wonder if this piece of legislation truly brings answers than questions on the Nigerian oil industry.
Citation Information
Humphrey Onyeukwu. "Who is afraid of Nigeria's Petroleum Industry Bill?" (2010)
Available at: http://works.bepress.com/humphrey_onyeukwu/7/