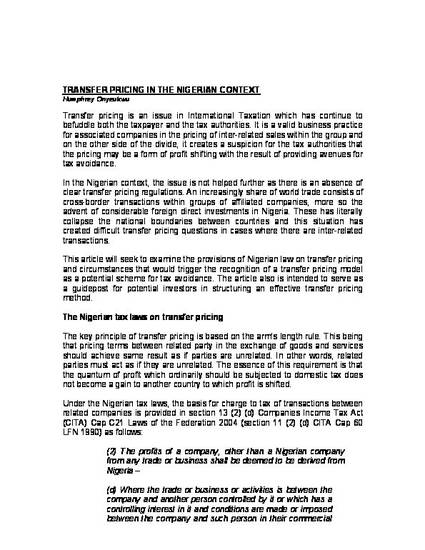 Article
TRANSFER PRICING IN THE NIGERIAN CONTEXT
Businessday Taxation Journal (2007)
Abstract
Transfer pricing is an issue in International Taxation which has continue to befuddle both the taxpayer and the tax authorities. It is a valid business practice for associated companies in the pricing of inter-related sales within the group and on the other side of the divide, it creates a suspicion for the tax authorities that the pricing may be a form of profit shifting with the result of providing avenues for tax avoidance.
In the Nigerian context, the issue is not helped further as there is an absence of clear transfer pricing regulations. An increasingly share of world trade consists of cross-border transactions within groups of affiliated companies, more so the advent of considerable foreign direct investments in Nigeria. These has literally collapse the national boundaries between countries and this situation has created difficult transfer pricing questions in cases where there are inter-related transactions.
This article will seek to examine the provisions of Nigerian law on transfer pricing and circumstances that would trigger the recognition of a transfer pricing model as a potential scheme for tax avoidance. The article also is intended to serve as a guidepost for potential investors in structuring an effective transfer pricing method.
Citation Information
Humphrey Onyeukwu. "TRANSFER PRICING IN THE NIGERIAN CONTEXT"
Businessday Taxation Journal
(2007)
Available at: http://works.bepress.com/humphrey_onyeukwu/5/