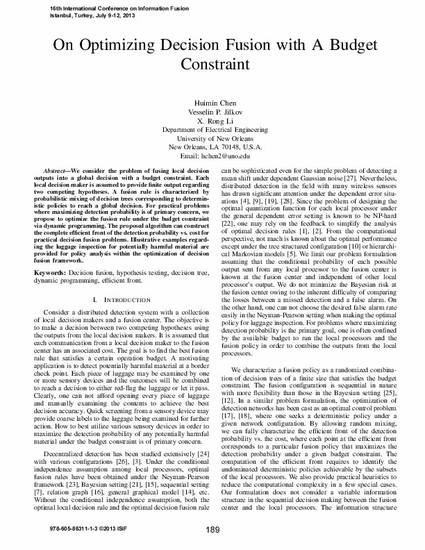 Article
On Optimizing Decision Fusion with A Budget Constraint
Int. Conf. on Information Fusion (2013)
Abstract
We consider the problem of fusing local decision outputs into a global decision with a budget constraint. Each local decision maker is assumed to provide finite output regarding two competing hypotheses. A fusion rule is characterized by probabilistic mixing of decision trees corresponding to deterministic policies to reach a global decision. For practical problems where maximizing detection probability is of primary concern, we propose to optimize the fusion rule under the budget constraint via dynamic programming. The proposed algorithm can construct the complete efficient front of the detection probability vs. cost for practical decision fusion problems. Illustrative examples regarding the luggage inspection for potentially harmful material are provided for policy analysis within the optimization of decision fusion framework.
Keywords
Decision fusion,
hypothesis testing,
decision tree,
dynamic programming,
efficient front.
Publication Date
July, 2013
Citation Information
Huimin Chen, Vesseline P Jilkov and X. Rong Li. "On Optimizing Decision Fusion with A Budget Constraint"
Int. Conf. on Information Fusion
(2013)
Available at: http://works.bepress.com/huimin_chen/2/