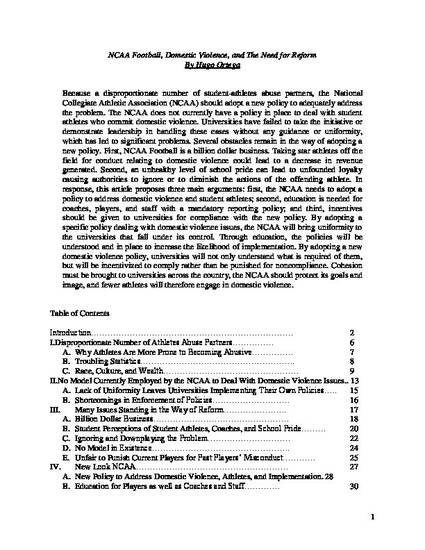 Unpublished Paper
NCAA Football, Domestic Violence, and The Need for Reform
ExpressO (2012)
Abstract
Because a disproportionate number of student-athletes abuse partners, the National Collegiate Athletic Association (NCAA) should adopt a new policy to adequately address the problem. The NCAA does not currently have a policy in place to deal with student athletes who commit domestic violence. Universities have failed to take the initiative or demonstrate leadership in handling these cases without any guidance or uniformity, which has led to significant problems. Several obstacles remain in the way of adopting a new policy. First, NCAA Football is a billion dollar business. Taking star athletes off the field for conduct relating to domestic violence could lead to a decrease in revenue generated. Second, an unhealthy level of school pride can lead to unfounded loyalty causing authorities to ignore or to diminish the actions of the offending athlete. In response, this article proposes three main arguments: first, the NCAA needs to adopt a policy to address domestic violence and student athletes; second, education is needed for coaches, players, and staff with a mandatory reporting policy; and third, incentives should be given to universities for compliance with the new policy. By adopting a specific policy dealing with domestic violence issues, the NCAA will bring uniformity to the universities that fall under its control. Through education, the policies will be understood and in place to increase the likelihood of implementation. By adopting a new domestic violence policy, universities will not only understand what is required of them, but will be incentivized to comply rather than be punished for noncompliance. Cohesion must be brought to universities across the country, the NCAA should protect its goals and image, and fewer athletes will therefore engage in domestic violence.
Keywords
Domestic Violence,
NCAA,
Regulation,
Intimate Partner Violence
Publication Date
September 24, 2012
Citation Information
Hugo Israel Ortega. "NCAA Football, Domestic Violence, and The Need for Reform"
ExpressO
(2012)
Available at: http://works.bepress.com/hugo_ortega/1/