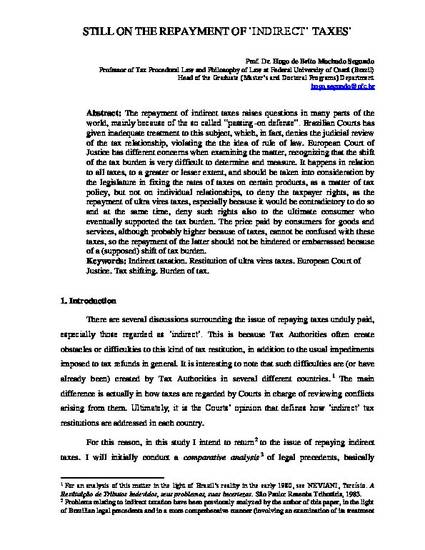 Unpublished Paper
Still on the repayment of indirect taxes
ExpressO (2013)
Abstract
The repayment of indirect taxes raises questions in many parts of the world, mainly because of the so called "passing-on defense". Brazilian Courts has given inadequate treatment to this subject, which, in fact, denies the judicial review of the tax relationship, violating the the idea of rule of law. European Court of Justice has different concerns when examining the matter, recognizing that the shift of the tax burden is very difficult to determine and measure. It happens in relation to all taxes, to a greater or lesser extent, and should be taken into consideration by the legislature in fixing the rates of taxes on certain products, as a matter of tax policy, but not on individual relationships, to deny the taxpayer rights, as the repayment of ultra vires taxes, especially because it would be contradictory to do so and at the same time, deny such rights also to the ultimate consumer who eventually supported the tax burden. The price paid by consumers for goods and services, although probably higher because of taxes, cannot be confused with these taxes, so the repayment of the latter should not be hindered or embarrassed because of a (supposed) shift of tax burden.
Keywords
passing-on defense,
repayment,
refund,
reimbursement,
indirect taxes,
unduly paid,
ultra vires taxes
Publication Date
March 25, 2013
Citation Information
Hugo B Machado. "Still on the repayment of indirect taxes"
ExpressO
(2013)
Available at: http://works.bepress.com/hugo_machado/1/