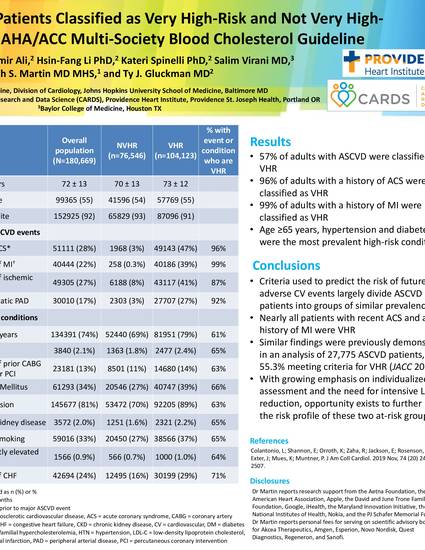 Presentation
Clinical Characteristics of Patients Classified as Very High Risk and Not Very High Risk Based on the 2018 AHA/ACC Multi-Society Cholesterol Guideline
JACC (Journal of the American College of Cardiology)
Document Type
Presentation
Publication Date
3-28-2020
Abstract
Background
The 2018 AHA/ACC Cholesterol Guideline recommendation to classify ASCVD patients as very high-risk (VHR) vs not-VHR (NVHR) has important implications for ezetimibe and PCSK9 inhibitor eligibility. We aimed to define the clinical characteristics of these two groups within a large multi-state healthcare system in the Western U.S. Methods
We performed a retrospective cohort analysis of patients defined as having ASCVD in 2018 using EHR ICD-10 codes. VHR was defined by ≥2 major ASCVD events (ACS ≤12 months, history of MI >12 months, ischemic stroke, or symptomatic PAD) or 1 major ASCVD event and ≥2 high-risk conditions (age ≥65, DM, HTN, smoking, HeFH, CKD, CHF, persistently elevated LDL-C, or prior CABG/PCI). Patients not meeting these criteria were classified as NVHR. Results
A total of 180,669 ASCVD patients were identified: 104,123 (58%) were VHR and 76,546 (42%) were NVHR. Mean age and gender was 70.1±13.4 years, 54% male and 73.1±11.9 years, 55% male for the NVHR and VHR groups, respectively. Among patients with a history of MI or recent ACS, 99% and 96% were classified as VHR, respectively (Table). Age ≥65, HTN and DM were the most prevalent high-risk conditions. Conclusion
Criteria used to predict future CV risk largely divide ASCVD patients into groups of similar prevalence. Nearly all ACS/MI patients were VHR. With growing emphasis on individualized risk assessment and intense LDL-C reduction, opportunity exists to further refine risk prediction within these two at-risk groups.
Clinical Institute
Cardiovascular (Heart)
Department
Center for Cardiovascular Analytics, Research + Data Science (CARDS)
Citation Information
Aparna Sajja, Amir Ali, Hsin-Fang Li, Kateri Spinelli, et al.. "Clinical Characteristics of Patients Classified as Very High Risk and Not Very High Risk Based on the 2018 AHA/ACC Multi-Society Cholesterol Guideline"
JACC (Journal of the American College of Cardiology)
(2020)
Available at: http://works.bepress.com/hsin-fang-li/3/