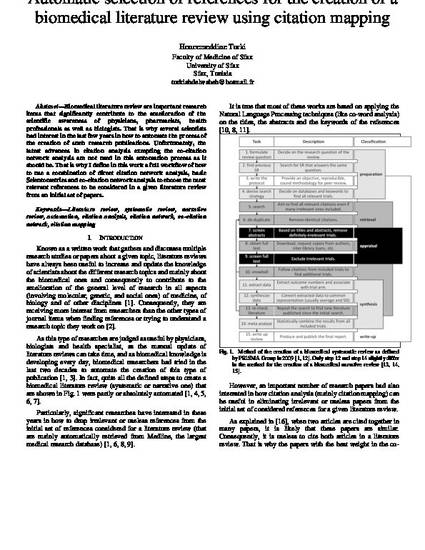 Article
Automatic selection of references for the creation of a biomedical literature review using citation mapping
Third International Conference on Engineering Sciences for Biology and Medecine (ESBM 2017) (2017)
Abstract
Biomedical literature review are important research items that significantly contribute to the amelioration of the scientific awareness of physicians, pharmacists, health professionals as well as biologists. That is why several scientists had interest in the last few years in how to automate the process of the creation of such research publications. Unfortunately, the latest advances in citation analysis excepting the co-citation network analysis are not used in this automation process as it should be. That is why I define in this work a full workflow of how to use a combination of direct citation network analysis, basic Scientometrics and co-citation network analysis to choose the most relevant references to be considered in a given literature review from an initial set of papers (Select the 100 best cited Medline MeSH-based query search results, Adopt the papers with the best weights in the citation network and the co-citation network of the 100 papers as the primary references for the literature review, and Apply Snowballing technique on the primary references to retrieve the secondary references to be considered in the literature review).
Keywords
Literature review,
systematic review,
narrative review,
automation,
citation analysis,
citation network,
co-citation network,
citation mapping
Publication Date
Spring May 4, 2017
Citation Information
Houcemeddine Turki. "Automatic selection of references for the creation of a biomedical literature review using citation mapping"
Third International Conference on Engineering Sciences for Biology and Medecine (ESBM 2017)
(2017)
Available at: http://works.bepress.com/houcemeddine_turki/24/