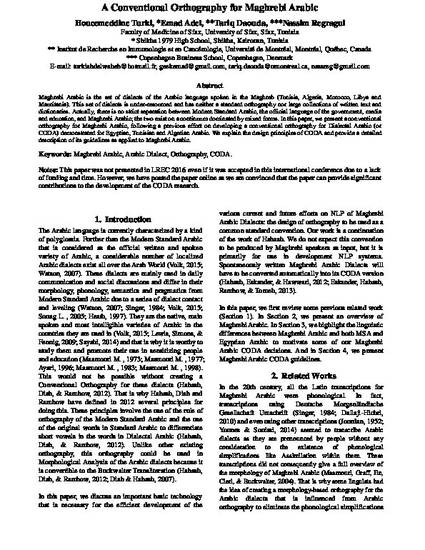 Article
A Conventional Orthography for Maghrebi Arabic
Proceedings of the International Conference on Language Resources and Evaluation (LREC), Portorož, Slovenia (2016)
Abstract
Maghrebi Arabic is the set of dialects of the Arabic language spoken in the Maghreb (Tunisia, Algeria, Morocco, Libya and Mauritania). This set of dialects is under-resourced and has neither a standard orthography nor large collections of written text and dictionaries. Actually, there is no strict separation between Modern Standard Arabic, the official language of the government, media and education, and Maghrebi Arabic; the two exist on a continuum dominated by mixed forms. In this paper, we present a conventional orthography for Maghrebi Arabic, following a previous effort on developing a conventional orthography for Dialectal Arabic (or CODA) demonstrated for Egyptian, Tunisian and Algerian Arabic. We explain the design principles of CODA and provide a detailed description of its guidelines as applied to Maghrebi Arabic.
Keywords
Maghrebi Arabic,
Arabic Dialect,
Orthography,
CODA
Publication Date
Spring May 24, 2016
Citation Information
Houcemeddine Turki, Emad Adel, Tariq Daouda and Nassim Regragui. "A Conventional Orthography for Maghrebi Arabic"
Proceedings of the International Conference on Language Resources and Evaluation (LREC), Portorož, Slovenia
(2016)
Available at: http://works.bepress.com/houcemeddine_turki/21/
Creative Commons license
This work is licensed under a Creative Commons CC_BY-NC-ND International License.