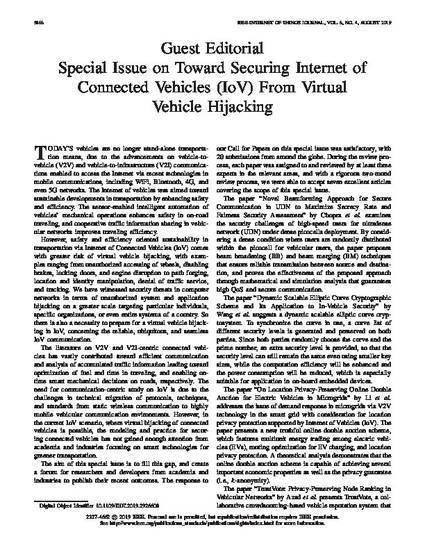 Article
Guest Editorial Special Issue on Toward Securing Internet of Connected Vehicles (IoV) From Virtual Vehicle Hijacking
IEEE Internet of Things Journal
Submitting Campus
Daytona Beach
Department
Electrical, Computer, Software, and Systems Engineering
Publication/Presentation Date
8-4-2019
Abstract/Description
Today's vehicles are no longer stand-alone transportation means, due to the advancements on vehicle-tovehicle (V2V) and vehicle-to-infrastructure (V2I) communications enabled to access the Internet via recent technologies in mobile communications, including WiFi, Bluetooth, 4G, and even 5G networks. The Internet of vehicles was aimed toward sustainable developments in transportation by enhancing safety and efficiency. The sensor-enabled intelligent automation of vehicles' mechanical operations enhances safety in on-road traveling, and cooperative traffic information sharing in vehicular networks improves traveling efficiency.
DOI
https://doi.org/10.1109/JIOT.2019.2926608
Citation Information
Yue Cao, Houbing Song, Omprakash Kaiwartya, Sinem Coleri Ergen, et al.. "Guest Editorial Special Issue on Toward Securing Internet of Connected Vehicles (IoV) From Virtual Vehicle Hijacking"
IEEE Internet of Things Journal
Vol. 6 Iss. 4 (2019) p. 5866 - 5869
Available at: http://works.bepress.com/houbing_song/310/