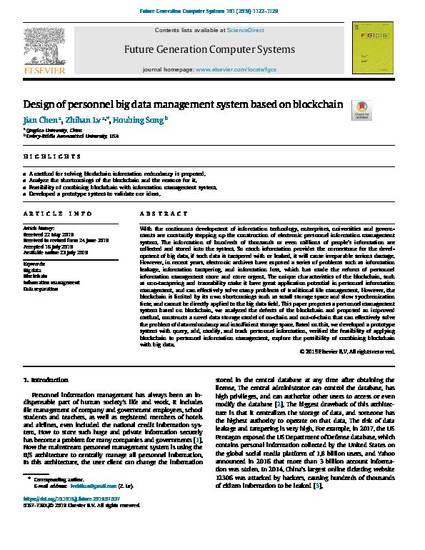 Article
Design of Personnel Big Data Management System Based on Blockchain
Future Generation Computer systems
Submitting Campus
Daytona Beach
Department
Electrical, Computer, Software, and Systems Engineering
Publication/Presentation Date
7-23-2019
Abstract/Description
With the continuous development of information technology, enterprises, universities and governments are constantly stepping up the construction of electronic personnel information management system. The information of hundreds of thousands or even millions of people's information are collected and stored into the system. So much information provides the cornerstone for the development of big data, if such data is tampered with or leaked, it will cause irreparable serious damage. However, in recent years, electronic archives have exposed a series of problems such as information leakage, information tampering, and information loss, which has made the reform of personnel information management more and more urgent. The unique characteristics of the blockchain, such as non-tampering and traceability make it have great application potential in personnel information management, and can effectively solve many problems of traditional file management. However, the blockchain is limited by its own shortcomings such as small storage space and slow synchronization time, and cannot be directly applied to the big data field. This paper proposes a personnel management system based on blockchain, we analyzed the defects of the blockchain and proposed an improved method, constructs a novel data storage model of on-chain and out-of-chain that can effectively solve the problem of data redundancy and insufficient storage space. Based on this, we developed a prototype system with query, add, modify, and track personnel information, verified the feasibility of applying blockchain to personnel information management, explore the possibility of combining blockchain with big data.
DOI
https://doi.org/10.1016/j.future.2019.07.037
Citation Information
Houbing Song, Jian Chen and Zhihan Lv. "Design of Personnel Big Data Management System Based on Blockchain"
Future Generation Computer systems
Vol. 101 (2019) p. 1122 - 1129
Available at: http://works.bepress.com/houbing_song/305/