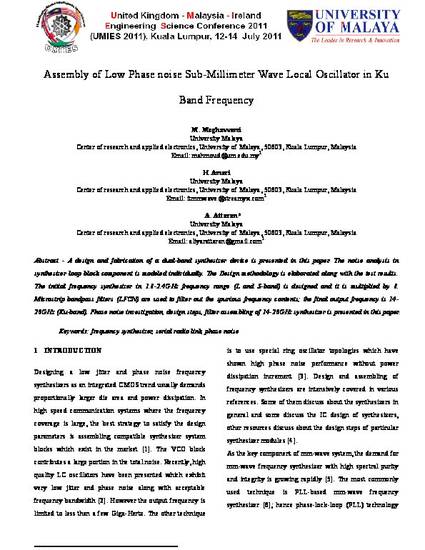 Article
Assembly of Low Phase noise Sub-Millimeter Wave Local Oscillator in Ku Band Frequency
United Kingdom - Malaysia - Ireland Engineering Science Conference 2011 (UMIES 2011) (2011)
Abstract
A design and fabrication of a dual-band synthesizer device is presented in this paper. The noise analysis in synthesizer loop block component is modeled individually. The Design methodology is elaborated along with the test results. The initial frequency synthesizer in 1.8-2.4GHz frequency range (L and S-band) is designed and it is multiplied by 8. Microstrip bandpass filters (LFCN) are used to filter out the spurious frequency contents; the final output frequency is 14-20GHz (Ku-band). Phase noise investigation, design steps, filter assembling of 14-20GHz synthesizer is presented in this paper.
Keywords
frequency synthesizer,
serial radio link,
phase noise
Publication Date
July, 2011
Citation Information
Moghavvemi, M.,
Ameri Mahabadi, H.
, & Attaran, A. (2011). Assembly of Low Phase noise Sub-Millimeter Wave Local Oscillator in Ku Band Frequency. Paper presented at the United Kingdom - Malaysia - Ireland Engineering Science Conference 2011 (UMIES 2011)