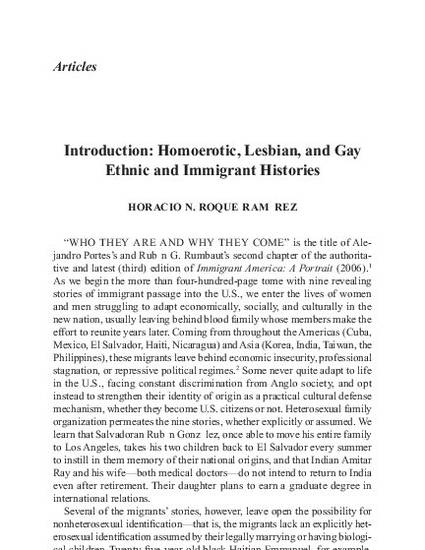 Article
Introduction: Homoerotic, Lesbian, and Gay Ethnic and Immigrant Histories
Journal of American Ethnic History (2010)
Abstract
This essay introduces a special journal issue bringing together the well-established field of racial-ethnic and immigration history in the U.S. with the less visible but just as strong and growing field of LGBT (lesbian, gay, bisexual, and transgender) and "queer" history and culture, essays exploring race and ethnicity, immigration and nation, and gender, sex, and sexuality as they inform one another, as well as the making of identities, historical subjects, communities, and policy. The contributors challenge the assumption that the history of immigration and racial-ethnic immigrant settlement take form only along heterosexual or heteronormative lines, whether people's movements across bodies of water and land borders take place individually or en masse, as undocumented, anonymous, by the night, or under the intensive and frenetic gaze of the media by day. Covering three distinct periods and points of entry, the essays offer original historical frames of analysis based on solid empirical evidence about the migration of men (and, to some extent, women) with same-sex desires, identities, and cultural affiliations; to a lesser degree they also tell us about bisexuality, cross-dressing, and other less-fixed identifications as these figure in the histories of immigration. In all, they bring to historiographical light new creative and critical approaches by using primary sources that document the immigrant experiences of less known "queer" ethnicities and identities in the U.S.
Keywords
Immigration,
Sexuality,
Gender,
Race and Ethnicity,
U.S. History,
Cuba,
Mariel,
Yone Noguchi,
Boutilier,
INS
Publication Date
Summer 2010
Citation Information
Horacio N Roque Ramirez. "Introduction: Homoerotic, Lesbian, and Gay Ethnic and Immigrant Histories"
Journal of American Ethnic History
Vol. 29 Iss. 4 (2010)
Available at: http://works.bepress.com/horacio_roqueramirez/6/