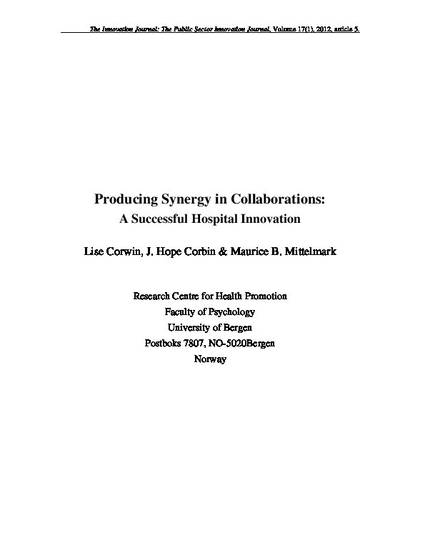 Article
Producing Synergy in Collaborations: A Successful Hospital Innovation
The Innovation Journal: The Public Sector Innovation Journal
Publication Date
1-1-2012
Keywords
Collaboration,
Partnership,
Collaborative functioning,
Innovation,
Hospital,
Hierarchy,
Health promotion,
Malnutrition,
Health services
Abstract
Patient malnutrition in hospitals is common and impedes recovery. Part of the problem is that hospitals are organised around diagnosis and treatment, not for good nutrition. This paper describes a Norwegian hospital's nutrition innovation that enhanced collaboration across and within the hospital hierarchy. The Bergen Model of Collaborative Functioning was the analysis framework for the study reported here. Success factors included having a clear mission, a sound implementation plan, leader commitment, trust and coordination, committed partners, clear structure, rules and roles, face-to-face communication, celebrating accomplishments underway, and utilising the surrounding context to give the innovation visibility and publicity.
Subjects - Topical (LCSH)
Public health--Evaluation--Norway--Bergen; Health promotion--Norway--Bergen; Evaluation research (Social action programs)--Norway--Bergen
Subjects - Names (LCNAF)
Haukeland University Hospital
Geographic Coverage
Bergen (Norway)
Citation Information
Hope Corbin, Lise Corwin and Maurice B. Mittelmark. "Producing Synergy in Collaborations: A Successful Hospital Innovation"
The Innovation Journal: The Public Sector Innovation Journal
Vol. 17 Iss. 1 (2012) p. Article 5
Available at: http://works.bepress.com/hope_corbin/12/