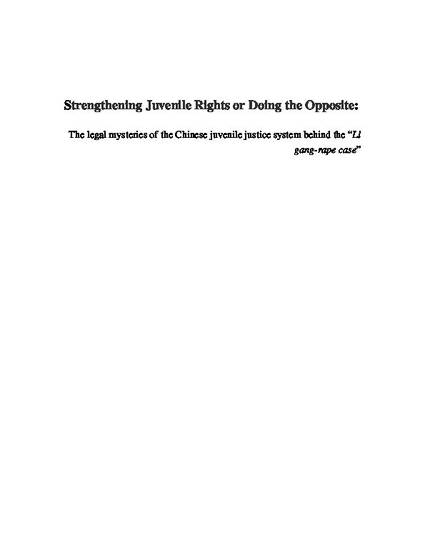 Unpublished Paper
Strengthening Juvenile Rights or Doing the Opposite: The legal mysteries of the Chinese juvenile justice system behind the "Li gang-rape case"
ExpressO (2015)
Abstract
ABSTRACT
After three-decade expansion since 1984, Chinese juvenile justice, largely seen as subsystem of general criminal justice, has reached to a good scale and idea of "giving priority to education and supplementing it with punishment" has served as a fundamental principle. Encouraged by these, more legal provisions have arisen to safeguard juvenile offender' rights. However, the one-sided principle of education first and punishment second often ignores the legitimate requests arising from the victims and the general public are, in effect, not only drawing criticism to juvenile's rights, they also might undermine the fairness and justice of society as a whole. Therefore, now it seems unavoidable to advocate and establish a unified specialized juvenile justice system, and introduce restorative approaches focusing more on juvenile offender accountability, offender competency development and community protection.
Publication Date
March 17, 2015
Citation Information
Hongwei Zhang. "Strengthening Juvenile Rights or Doing the Opposite: The legal mysteries of the Chinese juvenile justice system behind the "Li gang-rape case""
ExpressO
(2015)
Available at: http://works.bepress.com/hongwei_zhang/1/