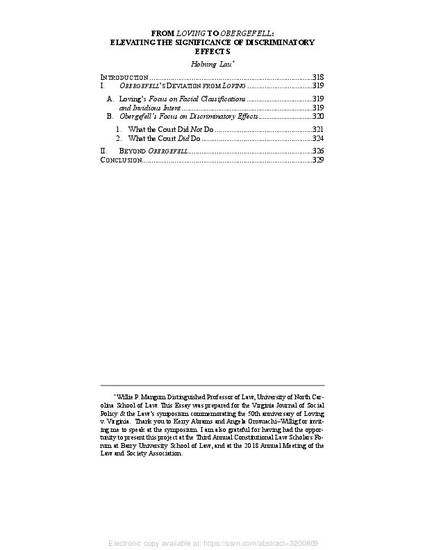 Article
From Loving to Obergefell: Elevating the Significance of Discriminatory Effects
Virginia Journal of Social Policy and the Law (2018)
Abstract
Loving v. Virginia and Obergefell v. Hodges are both landmark Supreme Court cases that advanced marriage equality. In Obergefell, the Court invalidated bans on same-sex marriage by building upon precedent it set nearly five decades earlier in Loving, which declared antimiscegenation laws unconstitutional. Indeed, commentators often describe Loving as an important precursor to Obergefell. Yet Obergefell's reasoning deviated from that of Loving. The differences between the two cases are all too often overlooked. This Essay thus seeks to address this blind spot by drawing attention to a critical distinction: Loving and Obergefell differ in their conceptualization of discrimination. 
When Loving evaluated whether Virginia's antimiscegenation law was discriminatory, it focused on the law's facial race-based classifications and on the government's intent behind the law. Obergefell took a different approach. Its analysis focused on same-sex marriage bans' deleterious effects on people's lived experiences. Obergefell's conceptualization of discrimination thus deviated from Loving because Loving's approach centered on facial classifications and intentions, whereas Obergefell's approach centered on effects. 
This Essay proceeds in two Parts. Part I elaborates on Loving's and Obergefell's contrasting conceptualizations of discrimination. Part II then explains that Obergefell's departure from Loving — elevating the analytical significance of discriminatory effects — was a remarkable development that should be celebrated and should help guide the development of equal protection doctrine.
Keywords
equal protection,
equality,
discrimination,
Loving,
Obergefell,
disparate impact
Citation Information
Holning Lau, "From Loving to Obergefell: Elevating the Significance of Discriminatory Effects," 25 Va. J. Soc. Pol'y & L. 317 (2018).