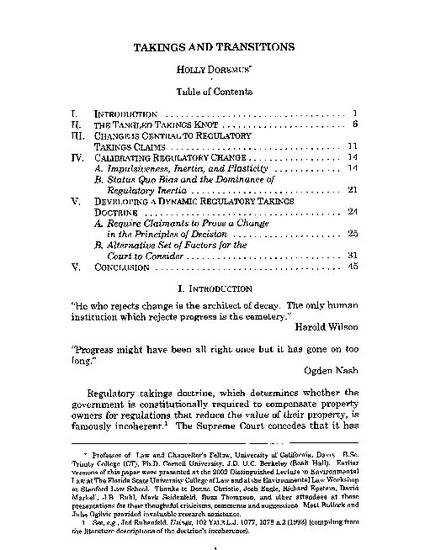 Article
Takings and Transitions
Florida State University Journal of Land Use and Environmental Law
Abstract
This article explores the inconsistent doctrines advanced by the courts in determining regulatory takings cases. Given the current nature of this area of the law, the author proposes an alternative test to apply in takings cases to provide more straight-forward treatment. That test would encompass four factors: 1) the justification for regulatory change; 2) the extent to which change was foreseeable in advance, and the ability of the landowner to adapt to that change; 3) the abruptness of the change; and 4) the generality of its application. Since regulatory takings claims are entirely about change, the author argues that the courts should begin their analysis of such claims with the knowledge that a particular type of change is essential to a viable claim. The author acknowledges that there are tensions in society's view of change, but suggests that fair distribution of the costs of regulatory transitions would introduce greater discipline into what presently seems to be unprincipled decision-making.
Citation Information
Holly Doremus. "Takings and Transitions"
Available at: http://works.bepress.com/holly_doremus/125/