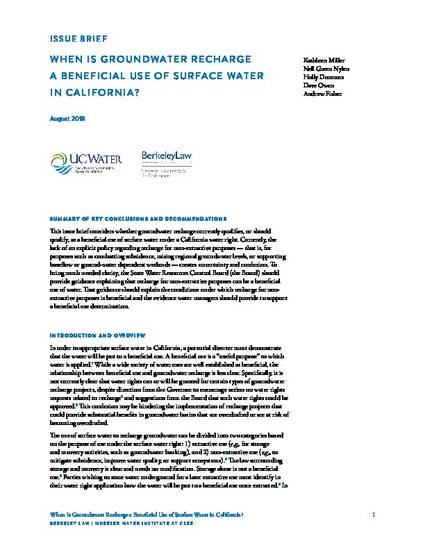 Article
When Is Groundwater Recharge a Beneficial Use of Surface Water in California?
Center for Law, Energy & the Environment Publications
Publication Date
8-1-2018
Abstract
This issue brief considers whether groundwater recharge currently qualifies, or should qualify, as a beneficial use of surface water under a California water right. Currently, the lack of an explicit policy regarding recharge for non-extractive purposes — that is, for purposes such as combatting subsidence, raising regional groundwater levels, or supporting baseflow or ground-water dependent wetlands — creates uncertainty and confusion. To bring much needed clarity, the State Water Resources Control Board (the Board) should provide guidance explaining that recharge for non-extractive purposes can be a beneficial use of water. That guidance should explain the conditions under which recharge for nonextractive purposes is beneficial and the evidence water managers should provide to support a beneficial use determination.
Citation Information
Kathleen Miller, Nell Green Nylen, Holly Doremus, Dave Owen, et al.. "When Is Groundwater Recharge a Beneficial Use of Surface Water in California?" (2018)
Available at: http://works.bepress.com/holly_doremus/120/