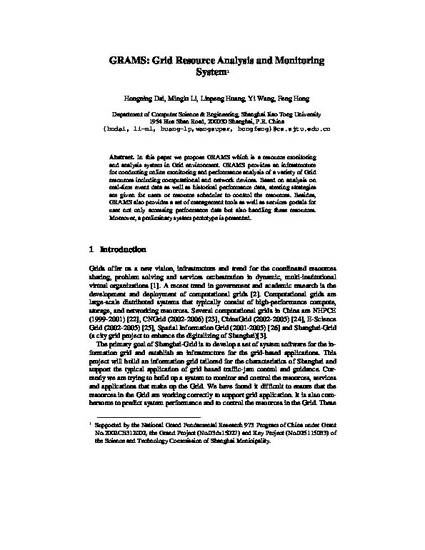 Presentation
GRAMS: A Grid Resource Analysis and Monitoring System
Proceedings of International Conference on Computer Science (ICCS) (2005)
Abstract
In this paper we propose GRAMS which is a resource monitoring and analysis system in Grid environment. GRAMS provides an infrastructure for conducting online monitoring and performance analysis of a variety of Grid resources including computational and network devices. Based on analysis on real-time event data as well as historical performance data, steering strategies are given for users or resource scheduler to control the resources. Besides, GRAMS also provides a set of management tools as well as services portals for user not only accessing performance data but also handling these resources. Moreover, a preliminary system prototype is presented.
Keywords
Performance,
Monitoring,
Grid Computing,
Cloud Computing
Citation Information
Hong-Ning Dai, Minglu Li, Linpeng Huang, Yi Wang, et al.. "GRAMS: A Grid Resource Analysis and Monitoring System"
Proceedings of International Conference on Computer Science (ICCS)
(2005)
Available at: http://works.bepress.com/hndai/26/