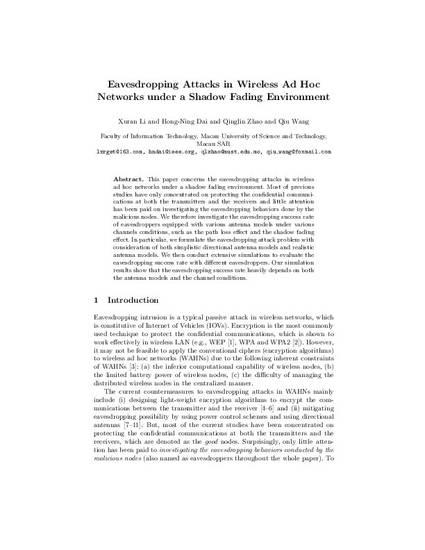 Presentation
Eavesdropping Attacks in Wireless Ad Hoc Networks under a Shadow Fading Environment
Proceedings of the 2014 International Conference on Internet of Vehicles (IOV 2014) (2014)
Abstract
This paper concerns the eavesdropping attacks in wireless ad hoc networks under a shadow fading environment. Most of previous studies have only concentrated on protecting the confidential communications at both the transmitters and the receivers and little attention has been paid on investigating the eavesdropping behaviors done by the malicious nodes. We therefore investigate the eavesdropping success rate of eavesdroppers equipped with various antenna models under various channels conditions, such as the path loss effect and the shadow fading effect. In particular, we formulate the eavesdropping attack problem with consideration of both simplistic directional antenna models and realistic antenna models. We then conduct extensive simulations to evaluate the eavesdropping success rate with different eavesdroppers. Our simulation results show that the eavesdropping success rate heavily depends on both the antenna models and the channel conditions.
Citation Information
Xuran Li, Hong-Ning Dai, Qinglin Zhao and Qiu Wang. "Eavesdropping Attacks in Wireless Ad Hoc Networks under a Shadow Fading Environment"
Proceedings of the 2014 International Conference on Internet of Vehicles (IOV 2014)
(2014)
Available at: http://works.bepress.com/hndai/11/