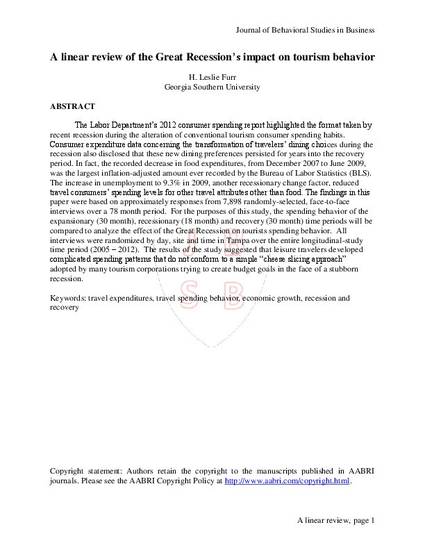 Article
A Linear Review of the Great Recession's Impact on Tourism Behavior
Journal of Behavioral Studies in Business
Publication Date
9-2-2014
Abstract
The Labor Department's 2012 consumer spending report highlighted the format taken by recent recession during the alteration of conventional tourism consumer spending habits. Consumer expenditure data concerning the transformation of travelers' dining choices during the recession also disclosed that these new dining preferences persisted for years into the recovery period. In fact, the recorded decrease in food expenditures, from December 2007 to June 2009, was the largest inflationadjusted amount ever recorded by the Bureau of Labor Statistics (BLS). The increase in unemployment to 9.3% in 2009, another recessionary change factor, reduced travel consumers' spending levels for other travel attributes other than food. The findings in this paper were based on approximately responses from 7,898 randomly-selected, face-to-face interviews over a 78 month period. For the purposes of this study, the spending behavior of the expansionary (30 month), recessionary (18 month) and recovery (30 month) time periods will be compared to analyze the effect of the Great Recession on tourists spending behavior. All interviews were randomized by day, site and time in Tampa over the entire longitudinal-study time period (2005 – 2012). The results of the study suggested that leisure travelers developed complicated spending patterns that do not conform to a simple "cheese slicing approach" adopted by many tourism corporations trying to create budget goals in the face of a stubborn recession.
Citation Information
H. Leslie Furr. "A Linear Review of the Great Recession's Impact on Tourism Behavior"
Journal of Behavioral Studies in Business
Vol. 7 (2014) p. 77 - 89
Available at: http://works.bepress.com/hleslie-furr/67/