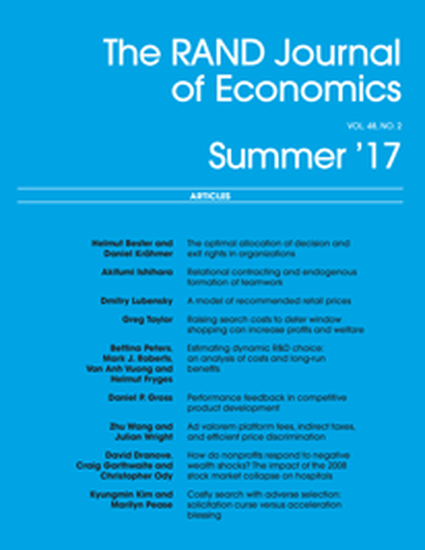 Article
Laboratory evidence on the effectiveness of corporate leniency programs
RAND Journal of Economics (2008)
Abstract
The number of cartels detected in the United States and in Europe has increased considerably since the introduction of corporate leniency programs in antitrust legislation. It cannot, however, be ruled out that this apparent success results in part from increased cartel activity. We explore the effects of corporate leniency programs on pricing and cartel activity by use of an experiment. We find that in the lab (i) fewer cartels are established when a leniency program is in place, and (ii) cartels that do exist are less successful in charging prices above the static Nash equilibrium price and have lower survival rates.
Keywords
Leniency program,
experiment
Publication Date
Summer 2008
Citation Information
Jeroen Hinloopen and Adriaan Soetevent. "Laboratory evidence on the effectiveness of corporate leniency programs"
RAND Journal of Economics
Vol. 39 Iss. 2 (2008) p. 607 - 616
Available at: http://works.bepress.com/hinloopen/7/