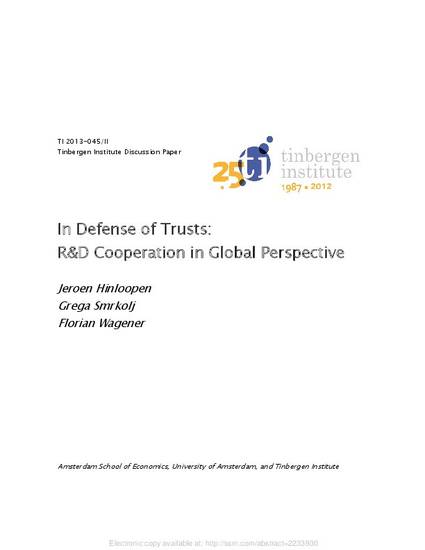 Unpublished Paper
In defence of trusts: R&D cooperation in global perspective
Tinbergen Institute Doiscussion Paper (2014)
Abstract
We examine the trade-off between the benefits of allowing firms to cooperate in R&D and the corresponding increased potential for product market collusion. We show that an extension of the cooperative agreement in R&D towards collusion in the product market is not necessarily welfare reducing: if firms collude, they (i) develop further a wider range of initial technologies, (ii) invest more in R&D such that process innovations are pursued more quickly, and (iii) abandon the technology for a smaller set of initial marginal costs. We also discuss the implications of our analysis for antitrust policy.
Keywords
Antitrust policy,
Bifurcations,
Collusion,
R&D Cooperatives
Publication Date
March, 2014
Citation Information
Jeroen Hinloopen, Grega Smrkolj and Florian Wagener. "In defence of trusts: R&D cooperation in global perspective"
Tinbergen Institute Doiscussion Paper
(2014)
Available at: http://works.bepress.com/hinloopen/4/