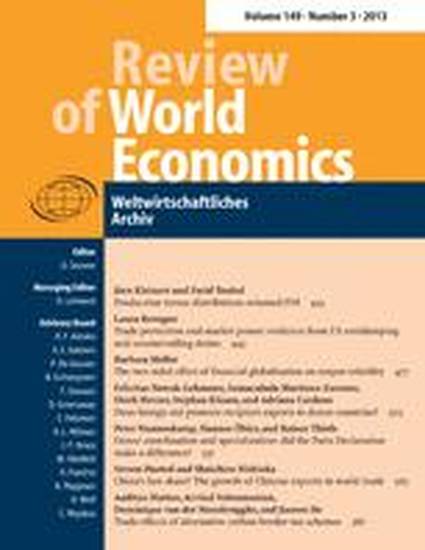 Article
On the empirical distribution of the Balassa index
Review of World Economics (Weltwirtschaftliches Archiv) (2001)
Abstract
The concept of revealed comparative advantage as measured by the Balassa index is widely used in practice to determine a country's weak and strong sectors. Interpreting the Balassa index is difficult, however, in view of the limited knowledge to date on the distribution of this index. We analyze theempirical distribution of the Balassa index and its stability and properties over time, using Japan-European Union trade data. It appears that the distribution is relatively stable over time and that the widely used rule that "a Balassa index above one" identifies a strong sector, selects about one-third of all industries. On the other hand, the distribution appears to differ markedly across countries.
Keywords
revealed comparative advantage,
balassa index,
empirical distribution,
markov process
Publication Date
March, 2001
Citation Information
Jeroen Hinloopen and Charles van Marrewijk. "On the empirical distribution of the Balassa index"
Review of World Economics (Weltwirtschaftliches Archiv)
Vol. 137 Iss. 1 (2001) p. 1 - 35 ISSN: 1610-2878
Available at: http://works.bepress.com/hinloopen/28/