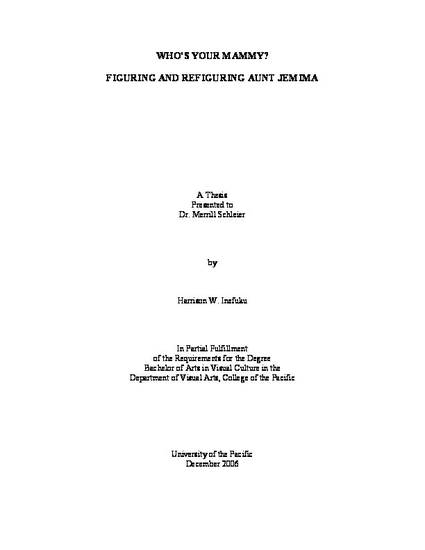 Unpublished Paper
Who's Your Mammy?: Figuring and Refiguring Aunt Jemima
Senior Thesis (2007)
Abstract
In existence since the late 1890s, advertising icon Aunt Jemima has been indelibly etched into the American memory—virtually unchanged from her debut until her makeover in 1989. Before this recent transformation, Aunt Jemima was the quintessential embodiment of the mammy stereotype—a heavyset black woman, complete with apron and bandana. Her creation was situated at the locus of several racist traditions and discourses directed towards African Americans—the mammy stereotype, the minstrel show, The Myth of the Old South, and the Exhibition of the Other. This embodiment of multiple racist practices helps to explain how the mammy in general, and Aunt Jemima in particular, served white businessmen faithfully, who took advantage of the racist ideology inherent in the mammy stereotype to boost sales. It also sets the stage for contemporary black female artists, who use the icon to challenge the stereotypes constructed for black women by hegemonic racist discourses.
Keywords
mammy,
Aunt Jemima,
African American Art,
Renee Cox,
Faith Ringgold,
Kara Walker
Publication Date
May, 2007
Citation Information
Harrison W. Inefuku. "Who's Your Mammy?: Figuring and Refiguring Aunt Jemima"
Senior Thesis
(2007)
Available at: http://works.bepress.com/hinefuku/26/