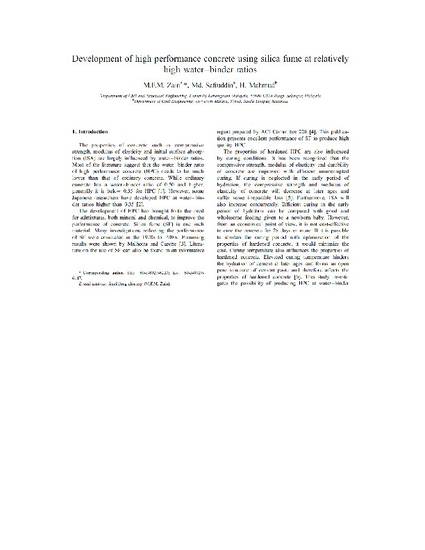 Article
Development of high performance concrete using silica fume at relatively high water-binder ratios
Cement and Concrete Research (2000)
Abstract
The aim of this study was to investigate the possibility of developing high performance concrete (HPC) using silica fume (SF) at relatively high water-binder ratios. For this purpose, water-binder ratios of 0.45 and 0.50 were considered. Test specimens were air and water cured and exposed to a medium temperature range of 20 °C to 50 °C. The compressive strength, modulus of elasticity and initial surface absorption (ISA) of hardened concrete were determined in the laboratory. Test results indicated that concrete under water curing offers the best results. The highest level of compressive strength and modulus of elasticity and the lowest level of ISA were produced by SF concrete under water curing and at temperature of 35 °C. Data collected also revealed that, under controlled curing conditions, it is possible to produce HPC at relatively high water-binder ratios.
Keywords
Binders,
Compressive strength,
Curing,
Elasticity,
Interfaces (materials),
Silica,
Water absorption,
High performance concretes,
Initial surface absorption,
Silica fumes,
Concretes.
Publication Date
September 1, 2000
Citation Information
Hilmi Mahmud. "Development of high performance concrete using silica fume at relatively high water-binder ratios"
Cement and Concrete Research
Vol. 30 Iss. 9 (2000)
Available at: http://works.bepress.com/hilmi_mahmud/44/