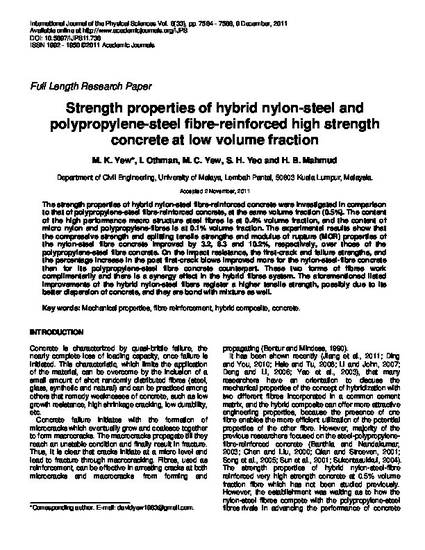 Article
Strength properties of hybrid nylon-steel and polypropylene-steel fibre-reinforced high strength concrete at low volume fraction
International Journal of Physical Sciences (2011)
Abstract
The strength properties of hybrid nylon-steel fibre-reinforced concrete were investigated in comparison to that of polypropylene-steel fibre-reinforced concrete, at the same volume fraction (0.5%). The content of the high performance macro structure steel fibres is at 0.4% volume fraction, and the content of micro nylon and polypropylene-fibres is at 0.1% volume fraction. The experimental results show that the compressive strength and splitting tensile strengths and modulus of rupture (MOR) properties of the nylon-steel fibre concrete improved by 3.2, 8.3 and 10.2%, respectively, over those of the polypropylene-steel fibre concrete. On the impact resistance, the first-crack and failure strengths, and the percentage increase in the post first-crack blows improved more for the nylon-steel-fibre concrete than for its polypropylene-steel fibre concrete counterpart. These two forms of fibres work complimentarily and there is a synergy effect in the hybrid fibres system. The aforementioned listed improvements of the hybrid nylon-steel fibers register a higher tensile strength, possibly due to its better dispersion of concrete, and they are bond with mixture as well. © 2011 Academic Journals.
Keywords
Concrete,
Fibre reinforcement,
Hybrid composite,
Mechanical properties.
Citation Information
Hilmi Mahmud. "Strength properties of hybrid nylon-steel and polypropylene-steel fibre-reinforced high strength concrete at low volume fraction"
International Journal of Physical Sciences
Vol. 6 Iss. 33 (2011)
Available at: http://works.bepress.com/hilmi_mahmud/13/