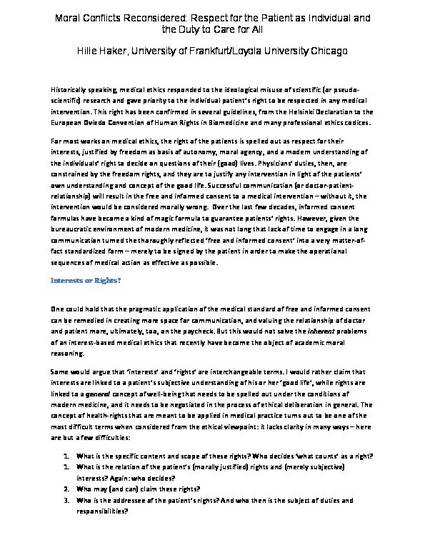 Article
Interests, Rights and Standards of Care in the Context of Globalized Medicine
Journal of Internal Medicine
Publication Date
4-1-2011
Abstract
Historically speaking, medical ethics responded to the ideological misuse of scientific (or pseudo- scientific) research and gave priority to the individual patient's right to be respected in any medical intervention. This right has been confirmed in several guidelines, from the Helsinki Declaration to the European Oviedo Convention of Human Rights in Biomedicine and many professional ethics codices. For most works on medical ethics, the right of the patients is spelled out as respect for their interests, justified by freedom as basis of autonomy, moral agency, and a modern understanding of the individuals' right to decide on questions of their (good) lives. Physicians' duties, then, are constrained by the freedom rights, and they are to justify any intervention in light of the patients' own understanding and concept of the good life. Successful communication (or doctor-patient- relationship) will result in the free and informed consent to a medical intervention – without it, the intervention would be considered morally wrong. Over the last few decades, informed consent formulas have become a kind of magic formula to guarantee patients' rights. However, given the bureaucratic environment of modern medicine, it was not long that lack of time to engage in a long communication turned the thoroughly reflected 'free and informed consent' into a very matter-of- fact standardized form – merely to be signed by the patient in order to make the operational sequences of medical action as effective as possible.
Publisher Name
Wiley-Blackwell
Creative Commons License
Creative Commons Attribution-Noncommercial-No Derivative Works 3.0
Copyright Statement
© 2011 Wiley-Blackwell Publishing Ltd.
Citation Information
Hille Haker. "Interests, Rights and Standards of Care in the Context of Globalized Medicine"
Journal of Internal Medicine
Vol. 269 Iss. 4 (2011)
Available at: http://works.bepress.com/hille_haker/8/