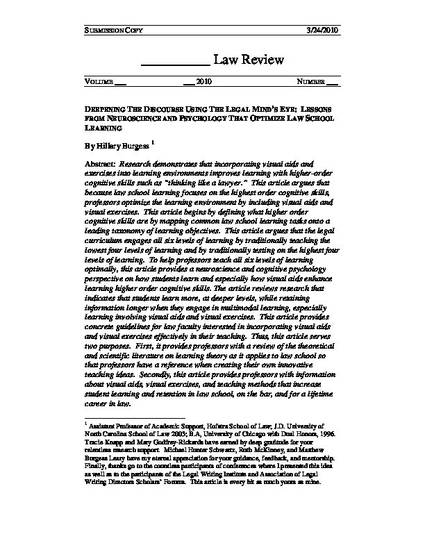 Unpublished Paper
DEEPENING THE DISCOURSE USING THE LEGAL MIND'S EYE: LESSONS FROM NEUROSCIENCE AND PSYCHOLOGY THAT OPTIMIZE LAW SCHOOL LEARNING
ExpressO (2010)
Abstract
Research demonstrates that incorporating visual aids and exercises into learning environments improves learning with higher-order cognitive skills such as "thinking like a lawyer." This article argues that because law school learning focuses on the highest order cognitive skills, professors optimize the learning environment by including visual aids and visual exercises.
This article begins by defining what higher order cognitive skills are by mapping common law school learning tasks onto a leading taxonomy of learning objectives. This article argues that the legal curriculum engages all six levels of learning by traditionally teaching the lowest four levels of learning and by traditionally testing on the highest four levels of learning.
To help professors teach all six levels of learning optimally, this article provides a neuroscience and cognitive psychology perspective on how students learn and especially how visual aids enhance learning higher order cognitive skills. The article reviews research that indicates that students learn more, at deeper levels, while retaining information longer when they engage in multimodal learning, especially learning involving visual aids and visual exercises. This article provides concrete guidelines for law faculty interested in incorporating visual aids and visual exercises effectively in their teaching.
Thus, this article serves two purposes. First, it provides professors with a review of the theoretical and scientific literature on learning theory as it applies to law school so that professors have a reference when creating their own innovative teaching ideas. Secondly, this article provides professors with information about visual aids, visual exercises, and teaching methods that increase student learning and retention in law school, on the bar, and for a lifetime career in law.
Keywords
Legal education,
law school,
learning,
cognitive psychology,
neuroscience,
educational psychology,
Bloom's taxonomy,
learning objectives,
assessment objectives,
exams,
flow charts,
visual aids,
visual exercises,
graphic organizers,
flowcharts,
experiential learning,
learning style,
multimodal learning,
visual,
auditory,
kinesthetic,
Carnegie,
Best Practices,
MacCrate,
teaching methods,
teaching,
1L,
learning,
studying,
outlining,
outlines,
study,
Boyle,
Schwartz,
Dunn,
picture superiority effect,
pictorial superiority effect,
picture,
worth a thousand words,
formative assessment,
evaluative assessment,
active learning,
activities
Publication Date
March 24, 2010
Citation Information
Hillary Burgess. "DEEPENING THE DISCOURSE USING THE LEGAL MIND'S EYE: LESSONS FROM NEUROSCIENCE AND PSYCHOLOGY THAT OPTIMIZE LAW SCHOOL LEARNING"
ExpressO
(2010)
Available at: http://works.bepress.com/hillary_burgess/1/