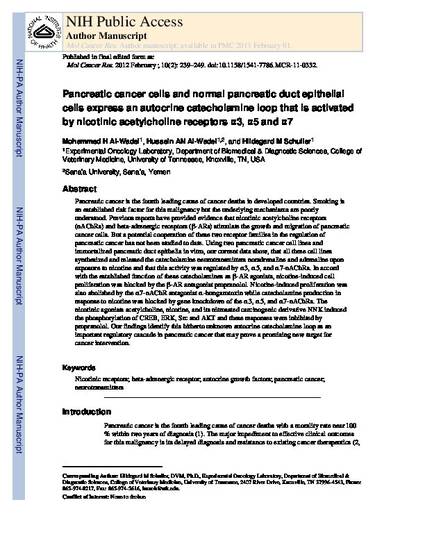 Article
Pancreatic cancer cells and normal pancreatic duct epithelial cells express an autocrine catecholamine loop that is activated by nicotinic acetylcholine receptors α3, α5, and α7
Mol Cancer Res. (2012)
Abstract
Pancreatic cancer is the fourth leading cause of cancer deaths in developed countries. Smoking is an established risk factor for this malignancy but the underlying mechanisms are poorly understood. Previous reports have provided evidence that nicotinic acetylcholine receptors (nAChR) and beta adrenergic receptors (β-AR) stimulate the growth and migration of pancreatic cancer cells. However, a potential cooperation of these two receptor families in the regulation of pancreatic cancer has not been studied to date. Using two pancreatic cancer cell lines and immortalized pancreatic duct epithelia in vitro, our current data show that all three cell lines synthesized and released the catecholamine neurotransmitters noradrenaline and adrenaline upon exposure to nicotine and that this activity was regulated by α3, α5, and α7-nAChRs. In accordance with the established function of these catecholamines as β-AR agonists, nicotine-induced cell proliferation was blocked by the β-AR antagonist propranolol. Nicotine-induced proliferation was also abolished by the α7-nAChR antagonist α-bungarotoxin, whereas catecholamine production in response to nicotine was blocked by gene knockdown of the α3, α5, and α7-nAChRs. The nicotinic agonists acetylcholine, nicotine, and its nitrosated carcinogenic derivative NNK induced the phosphorylation of CREB, ERK, Src, and AKT and these responses were inhibited by propranolol. Our findings identify this hitherto unknown autocrine catecholamine loop as an important regulatory cascade in pancreatic cancer that may prove a promising new target for cancer intervention.
doi: 10.1158/1541-7786.MCR-11-0332
Publication Date
February, 2012
Citation Information
M. H. Al-Wadei, H. A. Al-Wadei and Hildegard M. Schuller. "Pancreatic cancer cells and normal pancreatic duct epithelial cells express an autocrine catecholamine loop that is activated by nicotinic acetylcholine receptors α3, α5, and α7"
Mol Cancer Res.
Vol. 10 Iss. 2 (2012)
Available at: http://works.bepress.com/hildegard_schuller/41/