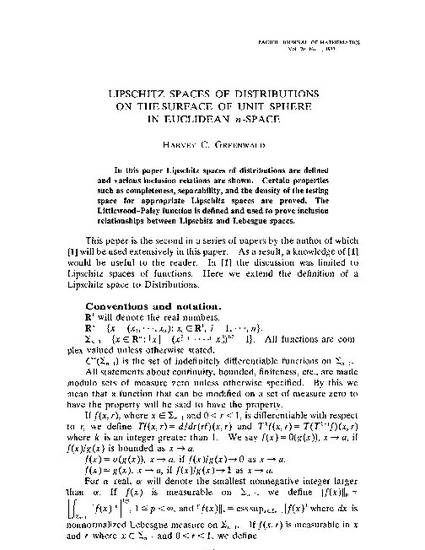 Article
Lipschitz Spaces of Distributions on the Surface of Unit Sphere in Euclidean n-Space
Pacific Journal of Mathematics
Publication Date
1-1-1977
Abstract
In this paper Lipschitz spaces of distributions are defined and various inclusion relations are shown. Certain properties such as completeness, separability, and the density of the testing space for appropriate Lipschitz spaces are proved. The Littlewood-Paley function is defined and used to prove inclusion relationships between Lipschitz and Lebesgue spaces.
Citation Information
Harvey Greenwald. "Lipschitz Spaces of Distributions on the Surface of Unit Sphere in Euclidean n-Space"
Pacific Journal of Mathematics
Vol. 70 Iss. 1 (1977) p. 163 - 176
Available at: http://works.bepress.com/hgreenwa/2/