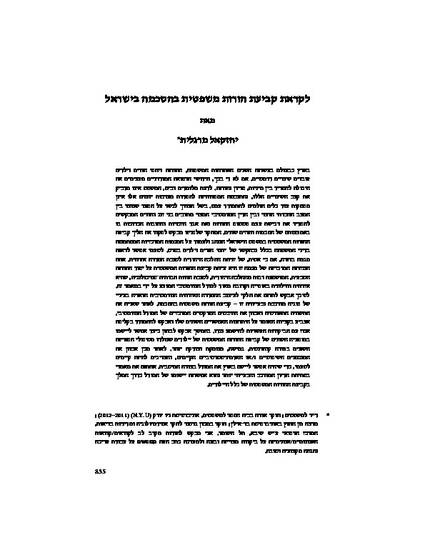 Article
Towards Determining Legal Parentage by Agreement in Israel
42 Hebrew University Law Review 835 (2012)
Abstract
In Israel as in other parts of the world, families, parenthood, and relations between parents and children have changed dramatically over the past few decades. So, too, developments in modern medicine have enhanced the ability to separate sexuality from fertility and parenthood. Many researchers feel that the legal system has not kept pace with these changes, and that traditional models of familial relationships no longer provide adequate tools for dealing with them. In order to bridge the gap between a desired social status and current law, a growing number of parents seek to regulate the status, rights, and obligations of parenthood by means of agreements and contracts. This study surveys the process of defining and determining legal parenthood in Israeli law, focusing on dominant trends in family law in general, an in the law of prents and children in particular.
The article identifies a clear if slow trend to abandon Jewish law in favour of civil law. One expression of this trend is a change in the definition of legal parenthood: the idea of natural parenthood, influenced by Jewish Halakah, is being replaced by socio-psychological parentage that is, by nature, civil and secular. This article seeks to contribute a further element to this normative, civil arrangement: determining legal parenthood by agreement. After establishing the theoretical foundation and examining the main practical aspects of the normative model, we briefly review its potential advantages and attempt to deal with objections that might arise. We then examine its application in determining the legal parenthood of children born as a result of fertility treatments. We then examine the current judicial and administrative mechanisms, and the changes that need to be made to apply the model in Israel. Finally, we discuss the more complex idea of appplying this model to the definition of legal parenthood of all children.
Keywords
Father,
mother,
fatherhood,
motherhood,
family law,
contract law,
agreement,
intentional parenthood,
intended parent,
child,
children,
surrogacy,
surrogate mother,
IVF,
artificial insemination,
egg donor,
ovum donation,
semen donation,
registration,
AID
Publication Date
Summer July 15, 2012
Citation Information
yehezkel Margalit. "Towards Determining Legal Parentage by Agreement in Israel"
42 Hebrew University Law Review 835
Vol. 42 (2012)
Available at: http://works.bepress.com/hezi_margalit/5/