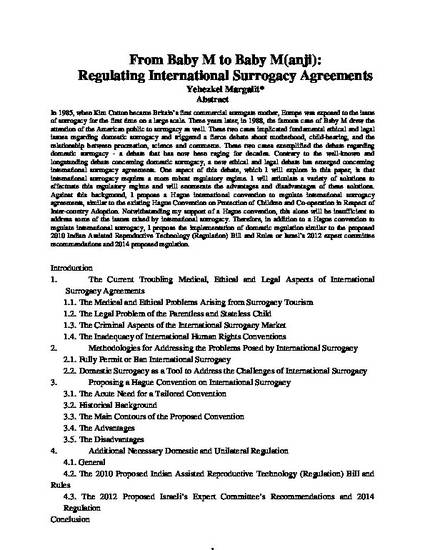 Article
From Baby M to Baby M(anji): Regulating International Surrogacy Agreements
THE JOURNAL OF LAW & POLICY (2016, forthcoming). (2016)
Abstract
In 1985, when Kim Cotton became Britain's first commercial surrogate mother, Europe was exposed to the issue of surrogacy for the first time on a large scale. Three years later, in 1988, the famous case of Baby M drew the attention of the American public to surrogacy as well. These two cases implicated fundamental ethical and legal issues regarding domestic surrogacy and triggered a fierce debate about motherhood, child-bearing, and the relationship between procreation, science and commerce. These two cases exemplified the debate regarding domestic surrogacy - a debate that has now been raging for decades. Contrary to the well-known and longstanding debate concerning domestic surrogacy, a new ethical and legal debate has emerged concerning international surrogacy agreements. One aspect of this debate, which I will explore in this paper, is that international surrogacy requires a more robust regulatory regime. I will articulate a variety of solutions to effectuate this regulatory regime and will enumerate the advantages and disadvantages of these solutions. Against this background, I propose a Hague international convention to regulate international surrogacy agreements, similar to the existing Hague Convention on Protection of Children and Co-operation in Respect of Inter-country Adoption. Notwithstanding my support of a Hague convention, this alone will be insufficient to address some of the issues raised by international surrogacy. Therefore, in addition to a Hague convention to regulate international surrogacy, I propose the implementation of domestic regulation similar to the proposed 2010 Indian Assisted Reproductive Technology (Regulation) Bill and Rules or Israel's 2012 expert committee recommendations and 2014 proposed regulation.
Keywords
Family Law,
Contract Law,
surrogate mother,
Surrogacy Contract/Agreement,
Hague convention,
Surrogate Mother,
Surrogacy,
Intended Parent,
Intentional Parenthood,
international/cross-borders/transnational surrogacy,
fertility tourism,
India,
Israel,
regulation.
Citation Information
yehezkel Margalit. "From Baby M to Baby M(anji): Regulating International Surrogacy Agreements"
THE JOURNAL OF LAW & POLICY (2016, forthcoming).
(2016)
Available at: http://works.bepress.com/hezi_margalit/14/