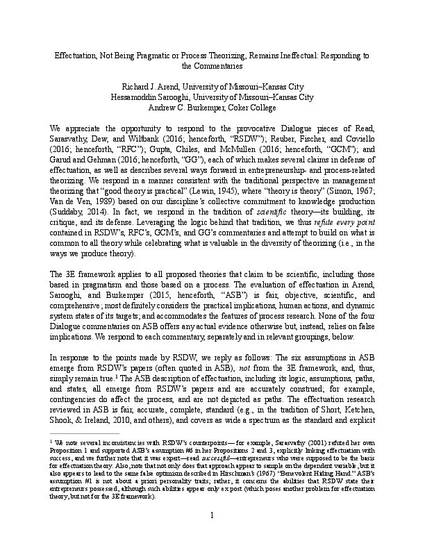 Article
Effectuation, Not Being Pragmatic or Process Theorizing, Remains Ineffectual: Responding to the Commentaries
Academy of Management Review
Publication Date
7-1-2016
DOI
https://doi.org/10.5465/amr.2016.0086
Abstract
We appreciate the opportunity to respond to the provocative Dialogue pieces of Read, Sarasvathy, Dew, and Wiltbank (2016; henceforth, "RSDW"); Reuber, Fischer, and Coviello (2016; henceforth, "RFC"); Gupta, Chiles, and McMullen (2016; henceforth, "GCM"); and Garud and Gehman (2016; henceforth, "GG"), each of which makes several claims in defense of effectuation, as well as describes several ways forward in entrepreneurship- and process-related theorizing. We respond in a manner consistent with the traditional perspective in management theorizing that "good theory is practical" (Lewin, 1945), where "theory is theory" (Simon, 1967; Van de Ven, 1989) based on our discipline's collective commitment to knowledge production (Suddaby, 2014). In fact, we respond in the tradition of scientific theory—its building, its critique, and its defense. Leveraging the logic behind that tradition, we thus refute every point contained in RSDW's, RFC's, GCM's, and GG's commentaries and attempt to build on what is common to all theory while celebrating what is valuable in the diversity of theorizing (i.e., in the ways we produce theory).
Citation Information
Richard J Arend, Hessam Sarooghi and Andrew C Burkemper. "Effectuation, Not Being Pragmatic or Process Theorizing, Remains Ineffectual: Responding to the Commentaries"
Academy of Management Review
Vol. 41 Iss. 3 (2016) p. 549 - 556
Available at: http://works.bepress.com/hessam-sarooghi/11/