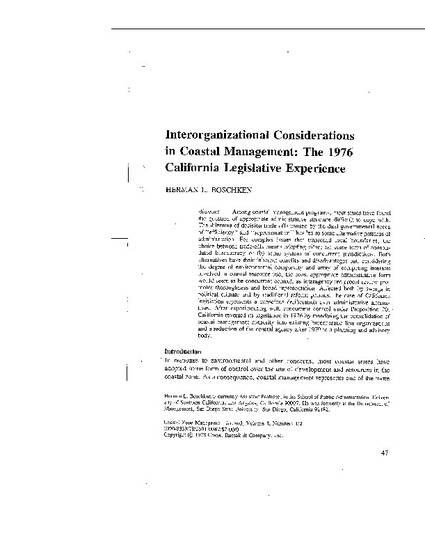 Article
INTERORGANIZATIONAL CONSIDERATIONS IN COASTAL MANAGEMENT: THE 1976 CALIFORNIA LEGISLATIVE EXPERIENCE
COASTAL ZONE MANAGEMENT JOURNAL (1978)
Abstract
Among coastal management programs, most states have found the question of appropriate administrative structure difficult to cope with. The dilemma of decision trade-offs caused by the dual governmental needs of "efficiency" and "representation" has led to some alternative patterns of administration. For complex issues that transcend local boundaries, the choice between trade-offs means adopting either (a) some form of consolidated bureaucracy or (b) some system of concurrent jurisdictions. Both alternatives have their inherent benefits and disadvantages but, considering the degree of environmental complexity and array of competing interests involved in coastal resource use, the most appropriate administrative form would seem to be concurrent control, as interagency reciprocal review promotes thoroughness and broad representation. Affected both by swings in political climate and by traditional reform politics, the case of California legislation represents a conscious deliberation over administrative alternatives. After experimenting with concurrent control under Proposition 20, California reversed its legislation in 1976 by mandating the consolidation of coastal management authority into existing bureaucratic line organizations and a reduction of the coastal agency after 1979 to a planning and advisory body. This article is an analysis of that legislative change from the perspective of administrative theory.
Keywords
COASTAL MANAGEMENT,
POLYCENTRIC GOVERNMENT,
BUREAUCRACY,
LEGISLATION,
DEVELOPMENT,
ECOLOGICAL SUSTAINABILITY
Citation Information
Herman L. Boschken. "INTERORGANIZATIONAL CONSIDERATIONS IN COASTAL MANAGEMENT: THE 1976 CALIFORNIA LEGISLATIVE EXPERIENCE"
COASTAL ZONE MANAGEMENT JOURNAL
Vol. 4 Iss. 1/2 (1978)
Available at: http://works.bepress.com/herman_boschken/13/