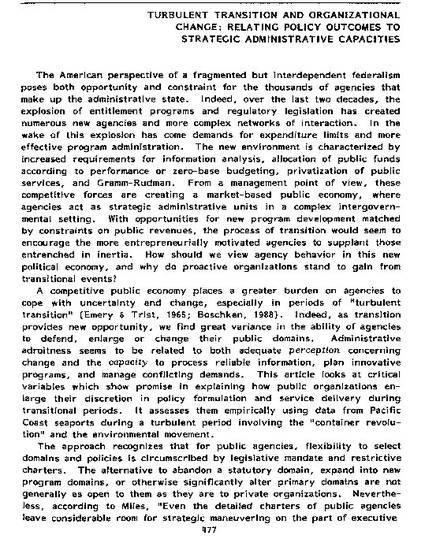 Article
TURBULENT TRANSITION AND ORGANIZATIONAL CHANGE: RELATING POLICY OUTCOMES TO STRATEGIC ADMINISTRATIVE CAPACITIES
POLICY STUDIES REVIEW (1988)
Abstract
A competitive public economy places greater burden on agencies to cope with uncertainty and change, especially in periods of "turbulent transition." As transition provides new opportunity, we find great variance in the ability of agencies to defend, enlarge or change their public domains. Administrative adroitness seems to be related to both adequate perception concerning change and the capacity to process reliable information, plan innovative programs, and manage conflicting demands. This article looks at critical variables which show promise in explaining how public organizations enlarge their discretion in policy formulation and service delivery during transitional periods. It assesses them empirically using data from U.S. Pacific Coast seaports during a turbulent period involving the "container revolution" and the environmental movement.
Keywords
ADMINISTRATIVE STRATEGY,
INTERGOVERNMENTAL RELATIONS,
POLICY OUTCOMES,
SEAPORTS,
ENVIRONMENTAL MANAGEMENT
Publication Date
Spring 1988
Citation Information
HERMAN L BOSCHKEN. "TURBULENT TRANSITION AND ORGANIZATIONAL CHANGE: RELATING POLICY OUTCOMES TO STRATEGIC ADMINISTRATIVE CAPACITIES"
POLICY STUDIES REVIEW
Vol. 7 Iss. 1 (1988)
Available at: http://works.bepress.com/herman_boschken/11/