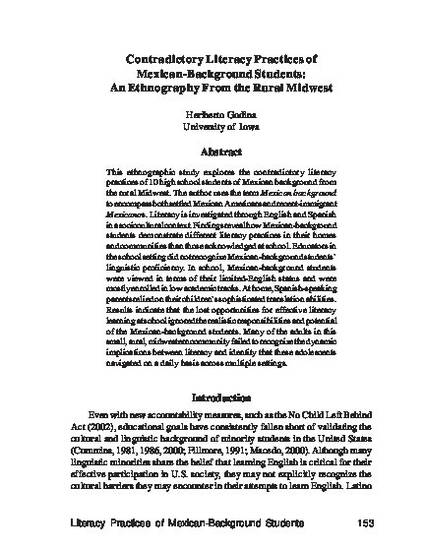 Article
Contradictory literacy practices of Mexican-background students: An ethnography from the rural Midwest
Bilingual Research Journal (2004)
Abstract
This ethnographic study explores the contradictory literacy practices of 10 high school students of Mexican background from the rural Midwest. The author uses the term Mexican background to encompass both settled Mexican Americans and recent-immigrant Mexicanos. Literacy is investigated through English and Spanish in a sociocultural context. Findings reveal how Mexican-background students demonstrate different literacy practices in their homes and communities than those acknowledged at school. Educators in the school setting did not recognize Mexican-background students' linguistic proficiency. In school, Mexican-background students were viewed in terms of their limited-English status and were mostly enrolled in low academic tracks. At home, Spanish-speaking parents relied on their children's sophisticated translation abilities. Results indicate that the lost opportunities for effective literacy learning at school ignored the realistic responsibilities and potential of the Mexican-background students. Many of the adults in this small, rural, midwestern community failed to recognize the dynamic implications between literacy and identity that these adolescents navigated on a daily basis across multiple settings.
Keywords
Mexican American,
Literacy,
Ethnography
Citation Information
Heriberto Godina. "Contradictory literacy practices of Mexican-background students: An ethnography from the rural Midwest"
Bilingual Research Journal
Vol. 28 Iss. 2 (2004)
Available at: http://works.bepress.com/heriberto_godina/2/