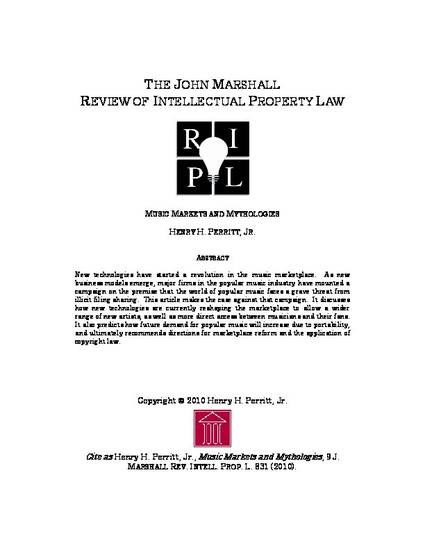 Article
Music Markets and Mythologies
John Marshall Review of Intellectual Property Law (2010)
Abstract
New technologies have started a revolution in the music marketplace. As new business models emerge, major firms in the popular music industry have mounted a campaign on the premise that the world of popular music faces a grave threat from illicit filing sharing. This article makes the case against that campaign. It discusses how new technologies are currently reshaping the marketplace to allow a wider range of new artists, as well as more direct access between musicians and their fans. It also predicts how future demand for popular music will increase due to portability, and ultimately recommends directions for marketplace reform and the application of copyright law.
Publication Date
March, 2010
Citation Information
Music Markets and Mythologies, 9
John Marshall Review of Intellectual Property Law
831 (2010).