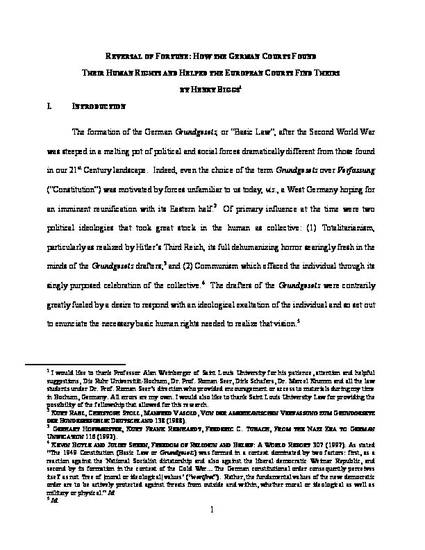 Unpublished Paper
REVERSAL OF FORTUNE: HOW GERMAN LAW FOUND ITS HUMAN RIGHTS AND HELPED THE EUROPEAN COURTS FIND THEIRS
ExpressO (2014)
Abstract
The German Constitution, or Grundgesetz, forged with Hitler's totalitarian vision searingly fresh in the German soul, has been hailed as an exemplary effort from a human rights perspective for its articulation of the rights of the individual within the collective. Nowhere in the Grundgesetz has the expression of that balance between the individual's private right and public interest been more highlighted than under its Article 14 Property Right. This article begins by chronicling the operation of that unique articulation of Property through German case law. The article then moves on to address how that German vision on human rights—relating to Property and generally—ultimately was realized in the articulation of individual rights in European law, addressing in particular: (1) its influence on the European Court of Justice's (ECJ's) jurisprudence; (2) its insistence on a Charter on Fundamental Rights (CFR) for the European Union; and finally (3) its own leadership in drafting that eventual Charter. The article finishes, however, by noting how this German voice would regrettably go unheard at a key moment, viz., in the articulation of the Charter's right to Property, a misstep with unfortunate consequences due to the procedural interplay between the ECJ and the European Court of Human Rights (ECtHR).
Keywords
European Law,
German Law,
Property,
European Court of Justice (ECJ),
Charter of Fundamental Rights (CFR)
Publication Date
January 1, 2014
Citation Information
Henry P Biggs. "REVERSAL OF FORTUNE: HOW GERMAN LAW FOUND ITS HUMAN RIGHTS AND HELPED THE EUROPEAN COURTS FIND THEIRS"
ExpressO
(2014)
Available at: http://works.bepress.com/henry_biggs/7/