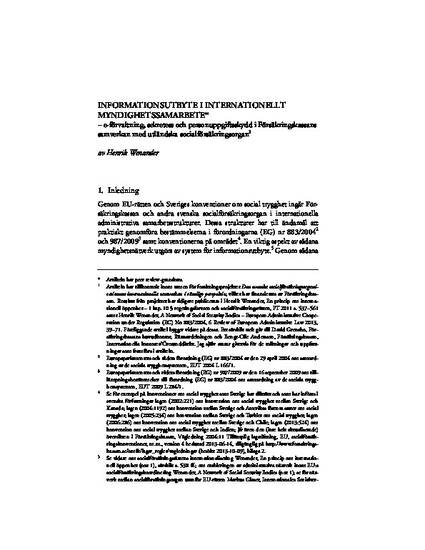 Article
Informationsutbyte i internationellt myndighetssamarbete – e-förvaltning, sekretess och personuppgiftsskydd i Försäkringskassans samverkan med utländska socialförsäkringsorgan. (Information Exchange in International Administrative Cooperation - E-Government, Confidentiality, and Protection of Personal Data in the Swedish Social Insurance Agency's Cooperation with Foreign Social Insurance Bodies.)
Förvaltningsrättslig tidskrift (2013)
Abstract
The article adresses some legal problems related to the Swedish Social Insurance Agency (Försäkringskassan) participating in international information exchange. Central topics are confidentiality of public dokuments, and tge protection of personal data in the planned EU infrastructure for information exchange in the field, the EESSI (Electronic Exchange of Social Security Information).
Keywords
International administrative cooperation,
Data protection,
Confidentiality,
International administrative networks
Citation Information
Henrik Wenander. "Informationsutbyte i internationellt myndighetssamarbete – e-förvaltning, sekretess och personuppgiftsskydd i Försäkringskassans samverkan med utländska socialförsäkringsorgan. (Information Exchange in International Administrative Cooperation - E-Government, Confidentiality, and Protection of Personal Data in the Swedish Social Insurance Agency's Cooperation with Foreign Social Insurance Bodies.)"
Förvaltningsrättslig tidskrift
(2013)
Available at: http://works.bepress.com/henrik_wenander/7/