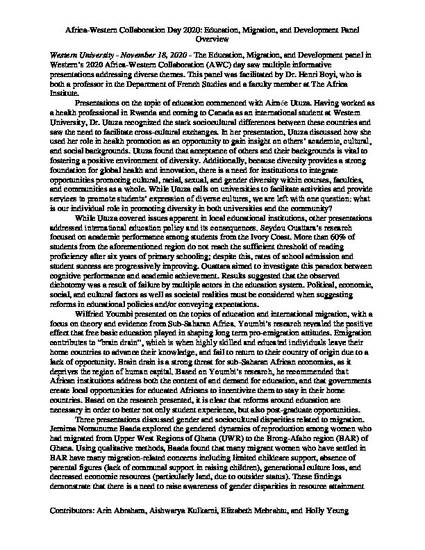 Article
Education, Migration and Development Panel
Africa-Western Collaborations Day 2020
Event Website
https://ir.lib.uwo.ca/awc_abstracts/
Start Date
18-11-2020 8:00 AM
End Date
18-11-2020 10:00 AM
Description
8 graduate students/recent graduate presentations on education, migration and development. Moderated by Dr. Henri Boyi. Reporting of panel done by current GHS students of the 2021 class. Abstracts can be found under "Africa-Western Collaborations Day 2020 Abstracts". Presenters as follows:
Jemima Nomunume Baada, "Experiences of Social Reproduction among Migrant Women in the Brong-Ahafo Region of Ghana"
Elmond Bandauko, "This is a Good Place to Live! Narratives and Counternarratives on Territorial Stigmatization in Harare's Informal Settlements"
Chinelo Ezenwa, "A History of 19th Century European Missionaries in Colonial Africa with Specific References to the Impact of Missionary Schools"
Rebecca Jackson, Jade Rozal, QingXiao Cui, "Developing Intercultural Relationships During Remote Internships"
Senanu Kwasi Kutor, "Place of Hope or Despair? Investigating Social Mobility in Harare's Informal Settlements"
Seydou Ouattara, "L'école ivoirienne: taux de réussite ou formation de qualité?"
Aimée Josephine Utuza, "Enhancing the Diversity in the Academic World: A Practical Mission or Just a Dream?"
Wilfried Youmbi Fotso, "Education and International Migration: Theory and Evidence from Sub-Saharan Africa"
Citation Information
Henri Boyi. "Education, Migration and Development Panel" (2020)
Available at: http://works.bepress.com/henri-boyi/1/