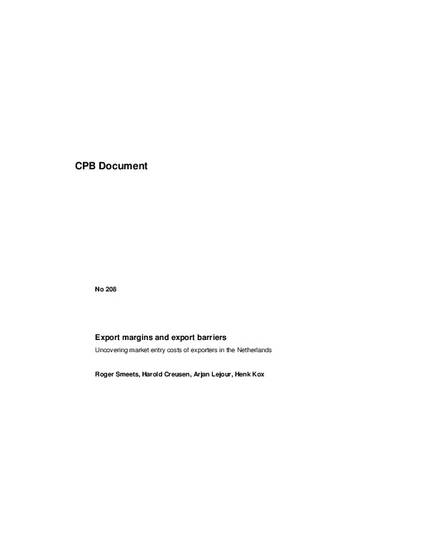 Article
Export margins and export barriers: Uncovering market entry costs of exporters in the Netherlands
CPB Document No. 208, ISBN 978-90-5833-456-5, CPB, The Hague (2010)
Abstract
Even though the Netherlands was the world's sixth largest exporter in 2009, the majority of Dutch firms does not engage in international trade at all, possibly because they are unable to cover the costs to enter specific foreign markets. What are these costs that limited the internationalisation of Dutch firms? Using detailed and unique transaction-level data on export patterns of about 1,200 large Dutch firms in the years 2006-2007, this research opens the black box of market entry costs. First, we find that more productive firms are both more likely to engage in exports (extensive margin) and to export larger volumes abroad (intensive margin). Second, next to the common determinants of export volumes, such as market size, transport and trade costs, we find that poorly developed foreign institutions and regulations form important impediments to firms' export decisions, but not to their subsequent export volume decisions. We also find some evidence that such effects on the export decision are relatively large in small markets, whereas export volumes react more to changes in trade and transport costs in large markets.
Keywords
heterogeneous firms,
export destinations,
market entry costs,
gravity equations
Publication Date
March, 2010
Citation Information
Roger Smeets, Harold Creusen, Arjan Lejour and Henk Kox. "Export margins and export barriers: Uncovering market entry costs of exporters in the Netherlands"
CPB Document No. 208, ISBN 978-90-5833-456-5, CPB, The Hague
(2010)
Available at: http://works.bepress.com/henk_kox/23/