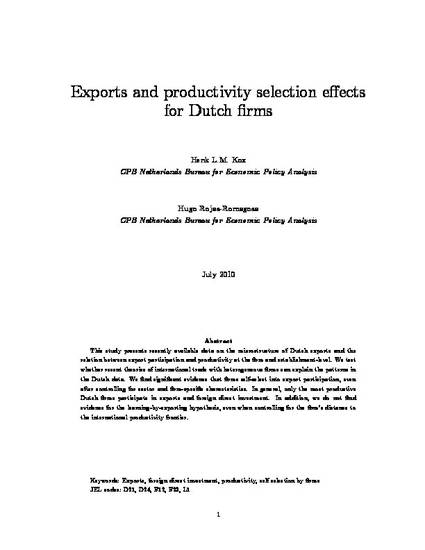 Article
EXPORTS AND PRODUCTIVITY SELECTION EFFECTS FOR DUTCH FIRMS
De Economist - Quarterly Review of The Royal Netherlands Economic Association (2010)
Abstract
The paper tests whether recent theories of international trade with heterogeneous firms can explain the export patterns in Dutch firm- and plant- level data in manufacturing and services. Recent trade models with heterogeneous firms predict that the export decision of firms is affected by sunk entry costs in foreign markets, with only the most productive firms self-selecting into exports. We test a latent variable model of the export decision by probit regressions and standard OLS panel regressions. Our results support the self-selection prediction. The process further appears to be conditioned by scale effects, market structure and multinational affiliation. Regarding alternative explanations, we do not find evidence for the learning-by-exporting hypothesis, even when controlling for the firm's distance to the international productivity frontier.
Keywords
heterogeneous firms,
productivity,
exports,
FDI,
firm self selection
Citation Information
Henk LM Kox and Hugo Rojas Romagosa, 2010, "EXPORTS AND PRODUCTIVITY SELECTION EFFECTS FOR DUTCH FIRMS". De Economist - Quarterly Review of The Royal Netherlands Economic Association 158 (3), 295-322.