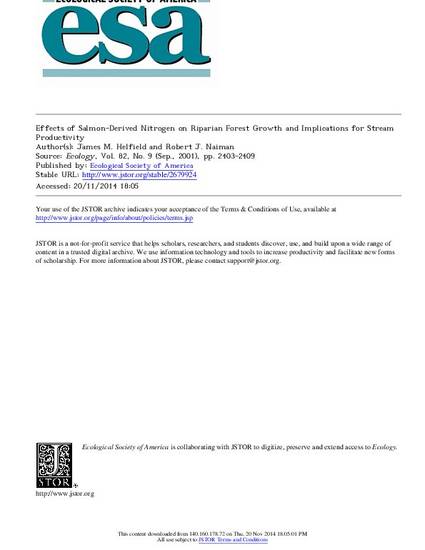 Article
Effects of Salmon-Derived Nitrogen on Riparian Forest Growth and Implications for Stream Productivity
Ecology
Publication Date
9-1-2001
Keywords
Fertilization,
Forest growth,
Marine-derived nutrients,
Nutrient cycling,
Picea sitchensis,
River,
Sitka spruce,
Stable isotopes
Abstract
Anadromous Pacific salmon ( Oncorhynchus spp.) transport marine-derived nitrogen (MDN) to the rivers in which they reproduce. Isotopic analyses indicate that trees and shrubs near spawning streams derive 22-24% of their foliar nitrogen (N) from spawning salmon. As a consequence of this nutrient subsidy, growth rates are significantly in­creased in Sitka spruce ( Picea sitchensis ) near spawning streams. As riparian forests affect the quality of instream habitat through shading, sediment and nutrient filtration, and production of large woody debris (LWD), this fertilization process serves not only to enhance riparian production, but may also act as a positive feedback mechanism by which salmon­ borne nutrients improve spawning and rearing habitat for subsequent salmon generations and maintain the long-term productivity of river corridors along the Pacific coast of North America.
DOI
https://doi.org/10.2307/2679924
Subjects - Topical (LCSH)
Pacific salmon--Carcasses--Environmental aspects--Alaska; Riparian forests--Nitrogen content--Alaska; Riparian ecology--Alaska; Fish populations--Alaska
Geographic Coverage
Alaska
Citation Information
James M. Helfield and Robert J. Naiman. "Effects of Salmon-Derived Nitrogen on Riparian Forest Growth and Implications for Stream Productivity"
Ecology
Vol. 82 Iss. 9 (2001) p. 2403 - 2409
Available at: http://works.bepress.com/helfield_james/10/