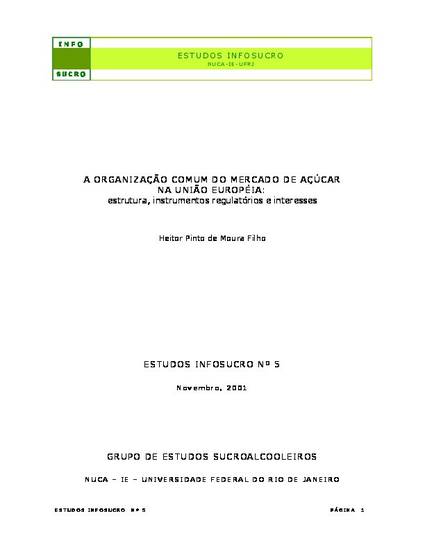 Unpublished Paper
A Organização Comum do Mercado de Açúcar na União Europeia: estrutura, instrumentos regulatórios e interesses
ESTUDOS INFOSUCRO Nº 5, NUCA-IE-UFRJ (2001)
Abstract
The subsidies and protection structure of the sugar sectors in the European Union originated from the individual national protection systems, unified with the creation of the Common Agricultural Policy. The main form of protection for agricultural products in the EU are the Common Organisations of the Market, which fix rules for planting, sale, prices, subsidies, storage and foreign trade. The COM for Sugars is based on an intervention price, at present quite higher than international prices. To determine who benefits from this intervention price, production quotas are established and distributed to each Member-State, producer and raw-material supplier. In parallel, levies are charged on sugar produced and tariffs on imported sugar, which contribute part of total funds required to finance these subsidies. The difference is covered by the community budget. The Eu imports sugar from ex- European colonies, paid at the internal EU price and benefitting from import tariff isention. Most of this sugar is reexported refined. There are other "entrances" for smaller quantities of sugar with preferential treatment, used, among others, by Cuba and Brazil. Subsidies and privileges are being contested internally and externally. Negotiations in international fora (WTO, bilateral talks) and preparation for the accession of East European countries to the EU will probably accelerate the reform of the COM for Sugar.
Keywords
sugar,
European Union,
sugar regulations
Publication Date
November, 2001
Citation Information
Heitor Moura. "A Organização Comum do Mercado de Açúcar na União Europeia: estrutura, instrumentos regulatórios e interesses"
ESTUDOS INFOSUCRO Nº 5, NUCA-IE-UFRJ
(2001)
Available at: http://works.bepress.com/heitor_moura/4/