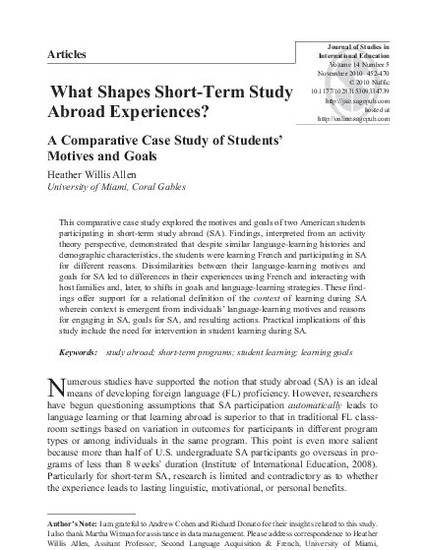 Article
What shapes short-term study abroad experiences? A comparative case study of students' motives and goals
Journal of Studies in International Education (2010)
Abstract
This comparative case study explored the motives and goals of two American students participating in a short-term study abroad program from an activity-theoretic perspective. Findings demonstrated that despite numerous shared characteristics and language-learning histories prior to study abroad, the students were learning French and participating in SA for different reasons. Dissimilarities between the two students' motives for language learning and initial goals for study abroad led to significant differences during study abroad in their experiences using French outside class and interacting with their host families and, later, to shifts in their goals and language-learning strategies. These findings offer support for a relational definition of the context of learning during SA wherein context can be understood as emergent from individuals' motives for engaging in SA, goals, and resulting actions. Practical implications of this study include the need for intervention in student learning during study abroad.
Keywords
motivation; language learning; activity theory; study abroad
Citation Information
Heather W. Allen. "What shapes short-term study abroad experiences? A comparative case study of students' motives and goals"
Journal of Studies in International Education
Vol. 14 Iss. 5 (2010)
Available at: http://works.bepress.com/heatherwillisallen/17/